British police arrest four youths over lesbian bus bashing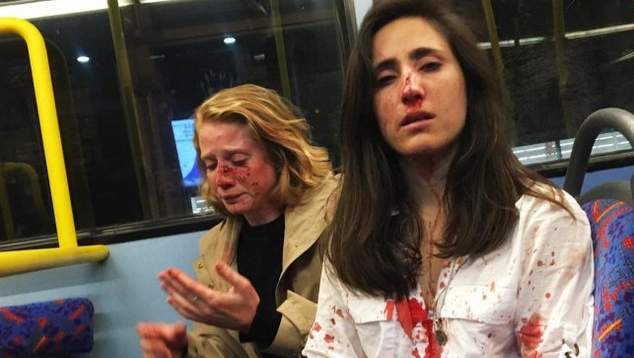 British police have arrested four teenagers over a brutal attack on a same-sex couple that took place on a London bus.
Melania Geymonat, 28, from Uruguay, was left with a suspected broken nose while girlfriend Chris, who is from the USA, was also beaten up.
The couple, who live in the United Kingdom, were catching a double-decker bus in London on 30th May when they were approached by a group of young men who demanded they kiss for their entertainment. When the couple refused they were assaulted.
"They started behaving like hooligans, demanding that we kissed so they could enjoy watching, calling us 'lesbians' and describing sexual positions," Geymonat wrote on Facebook.
"Chris even pretended she was sick, but they kept on harassing us, throwing us coins and becoming more enthusiastic about it. The next thing I know is that Chris is in the middle of the bus fighting with them."
'I didn't think about it and went in. I was pulling her back and trying to defend her so they started beating me up. 'I don't even know if I was knocked unconscious. I felt blood, I was bleeding all over my clothes and all over the floor.
British police have confirmed that four teenagers aged between 15 and 18 have been arrested over the alleged assault on the Camden bus. They have been charged with robbery and aggravated assault.
Both women were taken to hospital and treated for facial lacerations.
OIP Staff
---