Candlelight Vigil for HIV and AIDS Persists Through Rain and Wind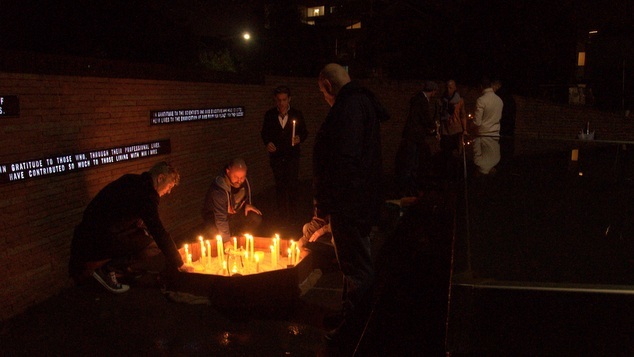 Last night a group of dedicated supporters braved the wet weather to pay tribute to those past and present whose lives have been affected by HIV and AIDS.
May 17th is known to many as International Day Against Homophobia, Biphobia and Transphobia (IDAHoBiT), and as well as being a day of promoting visibility and striving for a future free of discrimination, it is also an occasion to reflect on past battles lost and won.
It is for this reason that a small crowd gathered at the HIV and AIDS Memorial at Robertson Park in North Perth last night to light a candle for those who have lost their lives to HIV and AIDS related illnesses, as well as those who are living with HIV and/or AIDS today.
A community member* guided the evening through its proceedings, and made a speech regarding some of the history of HIV and AIDS and the medical and social developments that have lead to where we are today.
"Since the beginning of the epidemic, nearly 30 million people have died from AIDS related causes. There are so many people globally affected by HIV and AIDS in some shape or form. Our family members, our coworkers, our friends, our children, even totally strangers sitting next to us on the bus. We all have our lives to live."the community member* said.
"In one lifetime, sure, we cannot change the world, but what we can do is learn from the past and the people of the past. We can be present in our own way, here and now, individually and collectively. And we can do our level best in providing a guiding light for others in our own journey well into the future."
WAAC workshop leader and safe sex educator David Martin shared his experiences overcoming negative perceptions and learning to teach others.
"I think it is through education that we can break down the barriers between negative and positive, and that when we break down those barriers, we will start seeing people as people, not as what their status is." Martin said.
NAPWA representative Paul Baines reflected on the progress that had been made both globally and internationally.
"We are here to remember and to celebrate those lives already lost to this epidemic, however, this tale is a long way from over. There are numerous battles still being fought domestically and internationally for people living with HIV." Baines said.
"There are global members of the HIV community that suffer and go without treatment and are a long way from a promise of a life away from AIDS. In 2013 there were 1.5 million AIDS-related deaths globally. This is a 35% reduction on the 2005 statistic. But I feel in this day and age, any AIDS-related death is one too many."
Following the speeches, everyone present lit a candle and arranged it in front of the memorial. The rain and wind abated long enough to permit a period of calm in the glow of the candles. The group listened to a poem and stood in quiet reflection for a moment as the sky held its breath.
Sophie Joske
23-08-16 The name of the person conducting this event was removed at their request.