Carissa Wright helps #shinealightforlife this Festive Season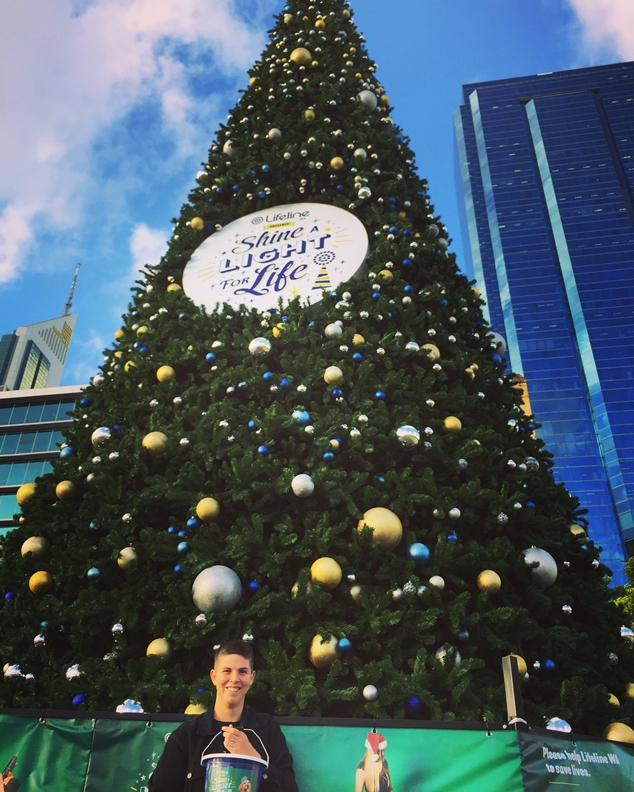 The festive season, for many Australians, is a time filled with positive associations of giving and appreciating what they have in the company of loved ones. Unfortunately, for others, it is a time filled with added pressures of expectation or reminders of loss, which can lead to increased levels of anxiety, depression and loneliness. Because of this, it is Lifeline WA's busiest time of the year.
For LGBTI people especially, Christmas can be difficult due to the experience of stigma and discrimination which can lead to and remind people of family loss or rejection. Though social acceptance of LGBTI people is improving, stigma and discrimination remains a major reason behind mental health issues experienced by people in the community, leading to increased feelings of loneliness over the Christmas period.
Fortunately, there are people in the LGBTI community who are at a point in their journey where they won't let mental health define them or take control over their lives; people who are constantly helping to shine a light for life and help others who may be going through similar experiences. One of those people is Carissa Wright.
Carissa has Borderline Personality Disorder (BPD). BPD is a relatively common mental health illness experienced by 1-4% of the population. People affected have difficulty managing emotions, impulses, relating to people and maintaining a stable self-image. Though distressing, people do recover. This is not often known or acknowledged, which can lead to stigma, discrimination and isolation. Carissa draws many similarities between the stigma, discrimination and isolation she has experienced because of her mental health, and what she has experienced as an LGBTI person.
"We​ ​already​ ​struggle​ ​being​ ​accepted​ ​into​ ​a​ ​society​ ​that​ ​still​ ​views sexuality​ ​and​ ​gender​ ​very​ ​narrow​-mindedly," she said.
​Throw​ ​in​ ​mental​ ​health​ ​and​ ​it​ ​comes​ ​hand​ ​in​ ​hand; people with​ ​mental​ ​illness​ ​already​ ​experience​ ​stigma​ ​and​ ​discrimination​ ​on​ ​a​ ​daily​ ​basis.​"
Carissa is a passionate advocate for suicide prevention and wants to shine a light for life this Christmas, as part of Lifeline WA's Christmas campaign, because she knows the positive ripple effect it can give people who are struggling and encourage them to speak out about their internal struggles.
"Having​ ​campaigns​ ​such​ ​as​ ​this one​ ​brings​ ​people​ ​together​ ​who​ ​are​ ​feeling​ ​like an outcast​ ​and​ ​who​ ​may​ ​feel​ ​like​ ​a​ ​minority," she said.
The Shine a Light for Life Campaign aims to raise awareness of loneliness, mental health issues and suicide at Christmas. All Western Australians, from the community to government and business, are encouraged to support the campaign by donating at www.lifelinewa.org.au. Contributions to the campaign will help train new Telephone Crisis Support Volunteers and continue to provide valued existing volunteers with ongoing training and support so that they can help the thousands of people who call 13 11 14 for help. People are also encouraged to shine their own light for life by uploading their Christmas lights photos to social media with the caption "I am helping #shinealightforlife."
When talking about shining a light for life, Carissa wants people to know there is help available out there for people with BPD, and those considering suicide
"Speak up​ ​about​ ​it​ ​to​ ​someone​ ​who​ ​you​ ​can​ ​trust," she said.
"The​ ​first​ ​step​ ​to​ ​preventing​ ​is​ ​speaking​ ​about​ ​it; no​ ​one's​ ​pain​ ​is​ ​invalid."
She also wants people to know there is help and acceptance out there for those who may be struggling or questioning their gender or sexuality, particularly over the difficult holiday period, including Lifeline WA. Regardless of age, gender, ethnicity, religion or sexuality, Lifeline's trained volunteers are ready to listen and provide support and referrals.
"Not​ ​everyone​ ​is​ ​fortunate​ ​enough​ ​to​ ​have​ ​a​ ​supportive​ ​family​ ​network, so​ ​being​ ​able​ ​to​ ​talk to​ ​people​  ​can​ ​really​ ​give​ ​people​ ​a​ ​sense​ ​of​ ​belonging when​ ​they​ ​are​ ​feeling​ ​incredibly​ ​isolated​ ​and​ ​alone," she said.
Life is a lot more manageable and clear for Carissa these days. She is currently receiving treatment known as Dialectical Behavioural Therapy (DBT), designed to help with the recovery of Borderline Personality Disorder specifically, and help with suicidal thoughts and behaviours. It can assist people with BPD learn and use new skills and strategies to develop a life​ ​they​ ​experience​ ​as​ ​worth​ ​living. She also surrounds herself for people who accept her for who she is.
​"I​ ​still​ ​have​ ​challenging​ ​days,​ ​however​ ​due​ ​to​ ​my DBT​ ​therapy​ ​I​ ​am​ ​able​ ​to​ ​ride​ ​through​ ​those​ ​days​ ​with​ ​healthier​ ​coping​ ​mechanisms​ ​rather​ ​than resorting​ ​to​ ​self-harm​ ​and​ ​acting​ ​on​ ​my​ ​suicidal​ ​ideations," she said.
​My​ ​relationship​ ​with​ ​myself​ ​has become​ ​more​ ​respectful,​ ​and​ ​I​ ​keep​ ​close​ ​the​ ​people​ ​who​ ​were​ ​there​ ​for​ ​me​ ​when​ ​I​ ​was​ ​at​ ​my lowest; the​ ​roller​ ​coaster​ ​ride​ ​has​ ​definitely​ ​slowed​ ​down​ ​for​ ​me​ ​and​ ​has​ ​abled​ ​me​ ​to​ ​take​ ​in​ ​all the​ ​positives​ ​and​ ​work​ ​through​ ​the​ ​challenges​ ​ahead."
No one has to face their problems alone this Christmas. Call Lifeline on 13 11 14, available 24/7.
---
Support OUTinPerth
Thanks for reading OUTinPerth. We can only create LGBTIQA+ focused media with your help.
If you can help support our work, please consider assisting us through a one-off contribution to our GoFundMe campaign, or a regular contribution through our Patreon appeal.