Cat Haven overrun with kittens, can you help?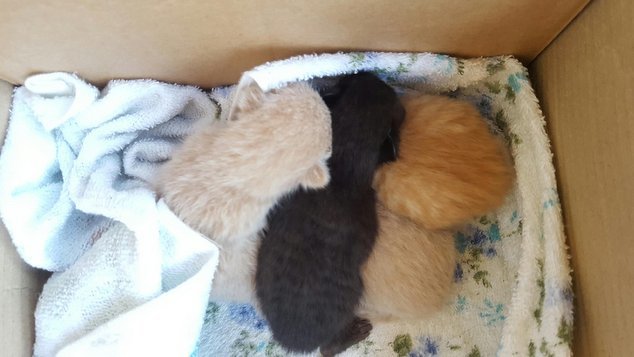 Three scared and hungry kittens have been dumped in a closed box with no water or warmth on the doorstep of Cat Haven in Shenton Park last week.
This was the tipping point for the cat shelter as it has recently had an influx of hundreds of unwanted cats and kittens due to the late and ongoing kitten season, and as a charity, it is struggling to keep all these cats alive. The shelter is currently caring for over 320 cats, with over two thirds of them being kittens, and they have another 500 in temporary foster care that will be returning to Cat Haven soon.
"Sadly the box of kittens was just left on the doorstep early one morning, and a Cat Haven staff member nearly stood on it, but when she picked it up and realized how light it was, she had a feeling it had kittens inside.
"We know it was probably someone thinking they are doing the right thing, but there are unlocked cat kennels right near the door with blankets, food and water where people can leave cats if they absolutely have to." Chandra Woodley, Cat Haven Marketing Officer said.
"The kittens are only two weeks old and are tiny, but they seem to be doing well and are currently being cared for by a surrogate mother cat. They will be monitored and once they are healthy enough at about 9 weeks old, they will come back to Cat Haven to be adopted out to a good home." Chandra Woodley said.
"Unfortunately at this time of year, the height of kitten season, many poor cats and kittens are dumped all over the Perth metro area, in parks, industrial areas, laneways etc and they nearly all end up at our shelter.
"We ask that people keep an eye out in their area and if they find kittens to not try to catch them but to call their council ranger as they can help trap the mother then the kittens." Chandra Woodley said.
Cat Haven is asking people to spread the word to sterilize their cats. It is law to sterilize and microchip all cats over 6 months old in Western Australia.
It costs over $8000 a day to keep the cats at Cat Haven when it is full, and with 98% of running costs being raised by donations and not Government funding, the shelter is at breaking point.
Read about OUTinPerth's visit to the Cat Haven.
Cat Haven is asking people not to buy their cat from Gumtree or other online sites but to adopt a shelter cat. Anyone who can't adopt a cat can consider temporary fostering, or can simply donate to help keep and rehome the 6500 unwanted cats that pass through the shelter each year.
To try to relieve the pressure, Cat Haven is offering two for one kitten deals, plus fee free Ringworm kittens, and 'Golden Oldies' (cats over 10 years) are available for just the cost of a donation.
The adoption packages include sterilisation, micro-chipping and vaccinations, and a free Revolution flea and worm treatment.
Source: Media Release from The Cat Haven