Christopher Pyne apologises for marriage equality comments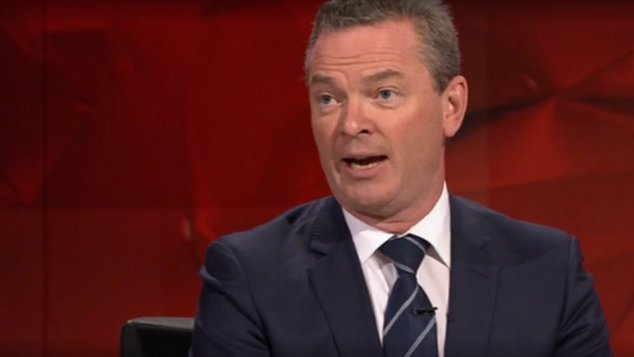 Liberal minister Christopher Pyne has apologised for his comments where he suggested marriage equality might be achieved in Australia sooner than people expected.
Leaked comments Pyne made last Friday set off days of in-fighting among government ministers exposing an ideological rift within the party's ranks.
The South Australian MP made the apology during a speech to his local branch members and later posted a statement to his social media pages.
The embattled minister will be hoping the apology will satisfy right-wing conservatives in the party who have continued to suggest that the issue could bring an end to the reign of Prime Minister Malcolm Turnbull.
"I'm very sorry that my comments at an event last Friday have caused such a distraction for the government.
"I apologise to anyone they have offended." Pyne said.
"My remarks were ill chosen and unwise and I can see how unhelpful and damaging they have been."
While he'd told a bar full of supporters that MPs who describe themsevles as moderates were running the party, Pyne's statement declared all MPs were being heard and consulted in the Turnbull government.
"The truth is, Malcolm Turnbull runs a tight knit, traditional cabinet government that is inclusive of all strands of thought across the party.
"The inclusion of the members of the Party Room has been outstanding and the team in Canberra has felt very much part of the decision making process.
"The Liberal Party has long been the crucible of both liberal and conservative thought and values. That is the secret of our success and has only been enhanced in the Turnbull Government." Pyne said.
On Monday night Pyne appeared on the ABC program Q&A and dismissed the comments as being sensationalised by the media.
"I've said for many years that I want marriage equality in Australia and I've campaigned for it, and I spoke to a group of supporters, generally of marriage equality on Friday night, and told them what I've said many time before in the media." Pyne said.
"The only thing that's made that statement remarkable is there's apparently there's a 'secret leaked tape' that has excited the press, and has turned into a sensational story."
Since news of Pyne comments broke several unnamed MPs have been quoted in the media calling for his demotion and suggesting a cabinet reshuffle was needed so that more conservative voices were included in Malcolm Turnbull's cabinet.
It has been suggested that alongside Pyne, Defence Minister Marise Payne and Attorney General George Brandis should be removed.
Today some minister tried to play down those suggestions. Treasurer Scott Morrison said the proposals were "nonsense".
OIP Staff, image: Christopher Pyne on Q&A
---

Add a rainbow friend to your world!
The incredibly talented Deborah Elkes and Linda Davie created a family of rainbow bears, owls, tweedle bugs and one eyed monsters to celebrate our 15th birthday.
They've lived in the window of The OUTPost for the last few weeks but now they're ready to find new homes.
The first 25 people who sign-up to our Patreon campaign before the end of the weekend will get one of these hand-made crochet creatures to call their own.
By signing up as a Patreon supporter you can ensure the future of queer journalism through OUTinPerth. Whether you can spare $2 or $20 a month, every little bit helps.
As a Patreon supporter you'll also get an invite to the OUTinPerth Supporters Club, which has a members only Facebook group which will give you the opportunity to shape future stories at OUTinPerth, get extra chances to win giveaways and invites to special events.