Church leaders demand public funding to fight marriage equality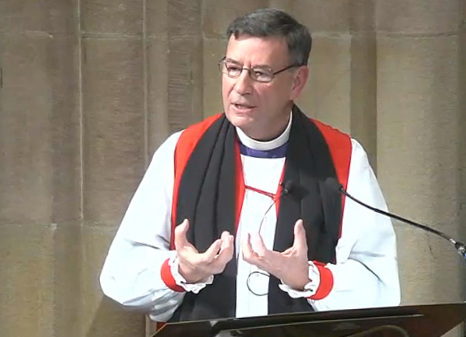 Church leaders are calling on the federal government to provide millions of dollars in funding to help them to convince Australian voters to oppose marriage equality.
Glenn Davies, the archbishop of Sydney has told the media that the Prime Minister promised him that public funds would be made available to both the 'yes' and 'no' campaigns if the plebiscite went ahead.
The Archbishop said he'd also met with Attorney General George Brandis to discuss the level of funding.
Archbishop Davies' claim has been backed up by Lyle Shelton the head of the Australian Christian Lobby.
The Prime Minister has told reporters that he's not prepared to debate what on in a private meeting, but said that if public funds were made available to the campaigns they would be of an equal amount to both sides.
There has been speculation that the government is considering giving $10 million dollars to each side of debate. The Australian Christian Lobby has previously suggested $15 million would be an appropriate sum, while Australian Marriage Equality has argued that no public funding is required.
Last month Archbishop Davies has told The Sydney Morning Herald that he believes a plebiscite is essential because politicians could not be objective.
"Regrettably, our political process has been so tainted on this issue that an objective debate in parliament, let alone an objective vote in both houses, is beyond the capabilities of the current parliament," Archbishop Davies said.
The government is expected to present more details about how the plebiscite might operate later this week. The issue is expected to be on the agenda at Monday's cabinet meeting, and discussed at the Liberal's party room meeting on Tuesday.
Labor's Shadow Assistant Minister for Equality, Terri Butler said the Prime Minister should drop the idea of giving public funds to any campaigns.
"If Malcolm Turnbull is considering giving taxpayers dollars over to opponents of marriage equality, what he is considering is funding, publicly funding, an argument that says that lesbians, that gay men, that bisexual people, that transgender people, that intersex people should not have the same rights as the majority of the population when it comes to marriage," Butler said.
"He's talking about publicly funding an argument to say that human rights should not be extended to a minority."
Butler said the Prime Minister should drop the plebiscite proposal and allow coalition MPs a free vote on the matter and let it simply be dealt with by the parliament.
OIP Staff