Circa Will Take You Beyond With New Show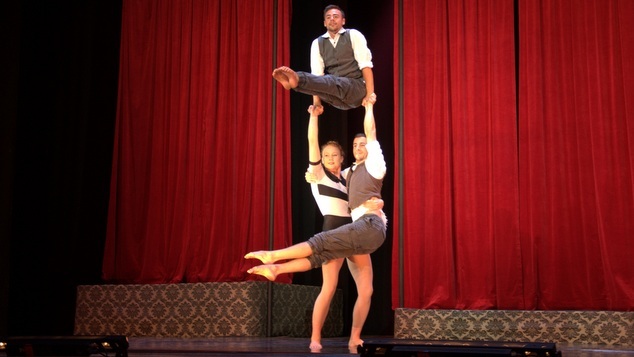 Widely acclaimed circus ensemble Circa bring to Perth their latest piece: 'Beyond', a show that blends music, acrobatics, and and humour into a truly unique production.
Having originated in Berlin, the show has been making its way around the world since 2013, taking its ensemble to New Zealand, the UK, France, Spain, Belgium and more.
Examining the line between human and animal, the show features outlandish acrobatic performances alongside a mixture of show tunes, ballads and electronica. Circus classics such as the trapeze and and Chinese pole will be given a fresh take with the use of wild costumes and props including a bear suit, rabbit suit and giant Rubik's cubes.

OUTinPerth chatted to ensemble member Kathryn O'Keeffe, who performs an acrobatic routine on a series of handstand canes while blindfolded.
"I grew up dancing and did gymnastics as a kid so I've always been trying to push things and I like the challenge of taking away sight and seeing how hard everything else has to work. And also trusting yourself that you know where you are." she said.
However, performing without sight can be challenging even for the most experienced performer. "I know my apparatus really well, I know how far away it should all be placed. It does get a bit tricky if it moves around a bit, and I sometimes go 'Which way am I facing? Where is the audience?' And the other one is when I'm blindfolded, I have no idea if the audience is watching or not. So it's a complete trust that they're enjoying it too."
O'Keefe said that whilst touring, she's enjoyed a variety of different audiences with different reactions to the show.
"Some places they won't clap and make a nose till the very end, other places, any time they see something they love they'll go crazy for it. That's the beauty of it. It's also lovely to hear when people go 'I got so emotionally involved in it.' And people cry throughout peoples' acts. It's great to see and also hear how they respond to the show.
According to O'Keeffe, the blurring between animal and human that occurs in 'Beyond' is relatable to many audience members.
"Throughout the show we find a way to feel comfortable with being who we are and not being afraid to express the animal within. So whether that's being a lion or a lamb or a bird, finding characteristics between those animals and elements and being comfortable with it and also the trust that we're all there with you on the same journey.
"There's a mixture of animal noises into beautiful moments where you want to hold your breath, into moments where you just start squirming in your seat going 'I don't know how they can do this!'"
'Beyond' is at the Regal Theatre from February 17th-21st as part of the Perth International Arts Festival. Tickets available from Ticketek.
Sophie Joske