Trans woman CJ Palmer sentenced to six years in a male prison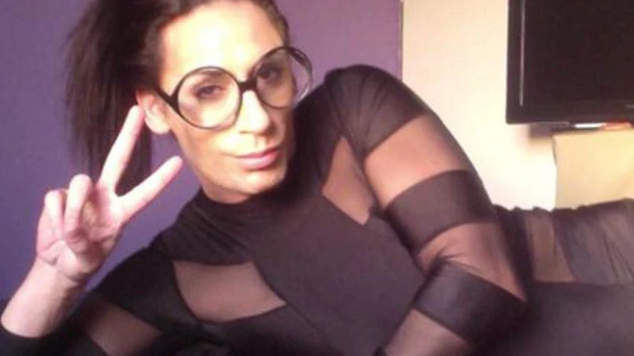 Perth woman CJ Palmer has been sentenced to serve six years, with a non-parole period of four years, after being found guilty of committing Grievous Bodily Harm for transmitting HIV.
Palmer will be returned to a male prison, despite being a transgender woman. Palmer has to date served 321 days in custody in a male prison, which will be counted towards her final sentence.
Presiding Judge Stevenson told the court he considered Ms Palmer's crime to be at the "upper end of the range of seriousness," and neglectful of her responsibility as a sex worker.

Prior to the final decision, Palmer's defence raised concerns that her needs were not being met in the male-specific facilities, including hormone therapy and appropriate clothing.
Judge Stevenson added that he expected that the prison will receive a copy of the hearing's transcript and ensure her needs are met. Palmer will also be kept isolated from other inmates in crisis care.
Ahead of today's decision, a number of advocacy groups had expressed their wariness over the treatment of Palmer as a trans woman. Others were concerned about the criminialisation of HIV, and the potential of legal proceedings increasing stigma and discrimination in society for those living with HIV.
"The criminalisation of people living with HIV is a blunt, ineffective tool in the war to end HIV. It only serves to drive people who need to be tested and treated further into the dark and creates a cultural fear," The Institute of Many's co-founder Nic Holas told OUTinPerth.
"In this particular instance, as with so many cases, an overwhelming majority of cases of HIV criminalisation, we have two people here who are victims and those people are victims of the ongoing stigma and discrimination of people living with HIV."
"I think this is an absolute miscarriage of justice for a six year sentence, I think it's completely excessive, and I along with many people in the community have deep, grave concerns for CJ's health and wellbeing – especially since she's been denied her hormone treatments."
"We welcome the indication from Judge Stevenson that this extremely heavy sentence is basically on the condition that she will keep receiving her hormone treatments. That is the only silver lining on what is a very dark day for every single person living with HIV in this country, as well as the transgender and sex worker communities."
Holas said that politicians need to act to ensure changes to these laws.
"We need an overhaul of criminalisation of HIV in every state and territory in this country, including here in Western Australia," Nic Holas said.
"We really need much better prosecutorial guidelines for transgender individuals. It's shocking that CJ is in a men's facility and has been condemned to six years of potential complete solitary confinement."
Jules Kim CEO of the Scarlet Alliance, an organisation that represents sex workers, spoke to the media outside the court describing the charges brought against CJ Palmer as "manifestly excessive".
"It's out of line with the other HIV convictions so we do believe that the charge is manifestly excessive. CJ has been having a very difficult time in prison. In 2011 the UN rapporteur on torture defined solitary confinement for more than two weeks as cruel and inhuman torture, so CJ is now is a situation where she is having to spend four years in solitary confinement."
Kim said there was evidence that long periods in solitary confinement would cause irreversible psychological damage, and it would be preferable if Palmer was held in a women's prison.
"This is the problem with the prison system, its not equipped to deal with transgender people. Currently in the WA Prisons Act they only have provisions for men and women. There actually is no provisions for transgender people, because they don't know where to put her she's living in the crisis care unit of a men's prison. She's been living as a women all her life, she is a woman." Kim said sharing her concerns for Palmer's safety.
Cipriano Martinez, National President of People Living With HIV Australia was in the court for the sentencing hearing and following the judges decision he expressed his concern over the case.
"The application of criminal law and broad community knowledge and attitudes towards HIV has not yet caught up with the modern science of HIV." Martinez said.
"People living with HIV are not infectious when we are successfully on treatment, we pose no risk to anyone. Most of us know have a normal life expectancy, a normal work life, and a normal sex life. Science has proven that we are unable to transmit HIV when we are on successful HIV treatment.
Martinez said that well funded health education was unrivaled in cost compared to the criminalisation of HIV.
"We now have pills to prevent HIV transmission before, during, and after sex. It is time as a society that we unshackled ourselves from the 1980's mindset that HIV is a death sentence. It is not." Martinez said.
"Custodial sentences of this kind undermine Australia's capacity to end HIV first in the world. It diminishes the role of shared responsibility, making some people more complacent. For others they opt out and avoid testing all together, leaving a pool of un-diagnosed and late diagnosed people in our communities.
"It perpetuates HIV fear and discrimination, which leads people to avoid people with HIV, and in turn avoid learning about how to prevent HIV. It is time that we all caught up with the modern view of HIV – which is we pose no risk if we take our pills.
Martinez said "moral panic" had led to the government having to spending 1.5 million dollars to incarcerate someone for unnecessarily for six years.
The longstanding HIV activist said cases like these had an extremely negative effect on the lives of other people living with HIV.
"They suddenly feel very more stigmatised and more afraid… for people to disclose and be open about their status they actually need people to come on-board with the new science and understand what it means."
Leigh Andrew Hill, Graeme Watson
This story is currently being updated.
---
Support OUTinPerth
Thanks for reading OUTinPerth. We can only create LGBTIQA+ focused media with your help.
If you can help support our work, please consider assisting us through a one-off contribution to our GoFundMe campaign, or a regular contribution through our Patreon appeal.