Client Liaison embrace the '80s with live show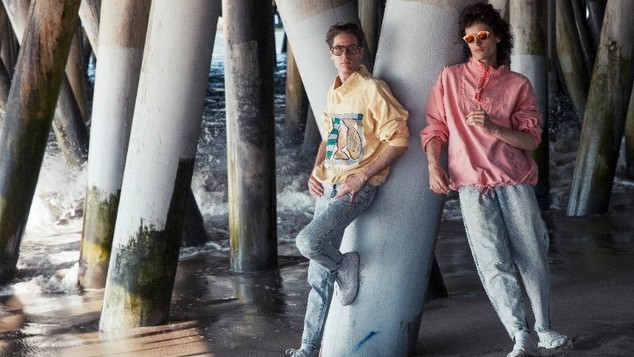 REVIEW From the moment Client Liaison took their first steps onto the stage the energy in the Villa Nightclub was immediately amplified.
The bands live performance truly lives up to the '80s style theme. Fashion wise, sound wise and even the choreography of the band members. If you're not familiar with the guys from Melbourne, they are a quirky, electronic pop band that really embraces the nostalgia of the 80s era.
Opening with a new track "Hotel Stay" featuring a timely baseline with a catchy clap, although it's a little different to the upbeat synths we've come to know as Client Liaison, it still proved to be a winner with the crowd.
The performance overall was very captivating, the kind of show you don't want to look away from the stage in case you miss something! Lead singer Monte Morgan proving his acrobatic skills with a microphone, hurling it mid-air to spin a few times before continuing with the next line, not missing a beat to dance to.
---

---
Setting the atmosphere with their coordinated outfits and dance moves, teamed with a very colorful lighting set up and themed props on stage really created a mood for the audience to feel included and enjoy the show. It's this kind of passion on stage that transported the audience out of Perth and into the world of Client Liaison.
The crowd was relentless for an encore and they got exactly that, including a cover Michael Jacksons 'Black or White' and closing the night with their latest track 'World of our Love'.
It's obvious these guys are in favour of embracing the 80s and although it might not be for everyone it's worth having a listen to decide for yourself.
From start to finish there was so much energy in Client Liaisons performance and it continued throughout the entire set. Creating not just music but an experience for the audience.
Client Liaison play Mojo's in Fremantle tonight before heading around Australia for the remainder of their 'World of Love' tour.
Remaining Shows on the Client Liaison tour
Thursday 19th The Great Northern Byron Bay, Friday 20th Elsewhere on the Gold Coast, Saturday 21st The Triffid in Brisbane, Sunday 22nd Sol Bar on the Sunshine Coast, a new show has just been added Thursday 26th at The Metro in Sydney, the Friday show in Sydney is sold out, catch them at The Uni Bar in Wollongong on Sunday 28th, the show on Friday June 3rd at The Worker's Club in Geelong is sold out, a few tickets remain for the show at The Forum in Melbourne on June 4th and two additional shows have just been added, a second show in Melbourne on Sunday June 5th at The Forum and a show at The Fat Controller in Adelaide on Friday June 10th.
Cassandra Archer