'Come From Away' is original, uplifting, and sparks emotions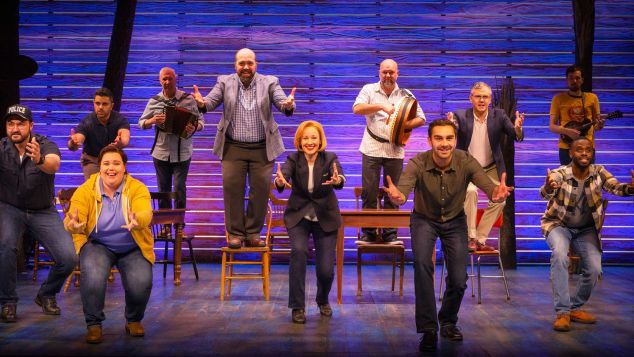 Come From Away | Crown Theatre | Until 28th May | ★ ★ ★ ★ ½ 
Over the decades musicals have had many varied and interesting starting points. A book of poems about cats, an massively long French novel, popular films, or a story woven through the back catalogue of a 70s group. A musical centered around the tragedy of the 9-11 terrorist attack? At first pitch – it feels odd, even wrong.
What has been created by writers and composers Irene Sankoff and David Hein is quite a work of genius, because it manages to present an uplifting and very human story set on one of the darkest days our society has faced, without taking anything away from the horrific events that occurred.
After the planes crashed into the World Trade Centre on that fateful day in 2001 authorities ordered all planes to land immediately. Thousands of flight were diverted and grounded. This led to 38 planes unexpectedly landing in the town of Gander in Newfoundland, Canada. Suddenly the town had an additional 6,600 people, the equivalent to 66 per cent of the local population.
The real life stories captured in this work were inspired via hundreds of interviews conducted with people who lived in the town, and those who suddenly found them stranded in the remote township for six days.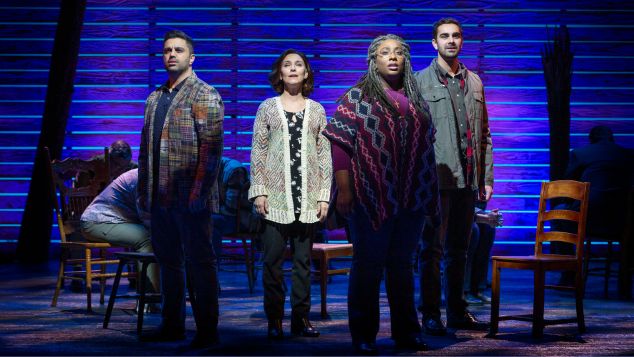 The stage is a combination of a giant wooden backdrop, and a collection of tables and chairs fill the space. Throughout the show the space is everything from an airplane to the control tower, the local café, and a late night bar. A quick rearrangement of the furniture and it's a hall being converted into crisis accommodation, and seconds later its a country walk or a busy tarmac.
A supremely talented cast play multiple characters, and they are so good it takes a little while to twig on to the fact that the same performers are multiple people. Even though their costume change might just be adding a jacket, or a hat, or losing a flannel shirt – combined with some very impressive acting – they inhabit many different characters. In fact each actor plays both a local, and someone who has "come from away", a Newfoundland phrase that serves as the shows title.
It is a production that moves at a great pace from start to finish, there's never a dull moment. Across it's two acts there's a lot of story to be told. We meet the local mayor, the young journalist who is new in town and at first wondering what kind of stories she might be able to find, there's the head of the bus driver's union, and many other colourful characters. From the planes there are captains, copilots and bewildered businessmen, families worried about love ones, and a gay couple who are making sure they are not accidently too camp in far-flung Newfoundland.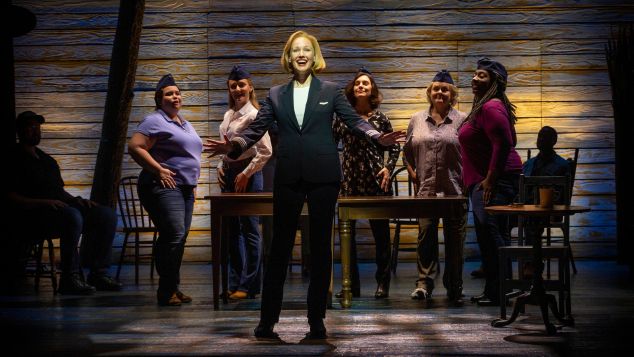 At first the harsh accents deployed by the character can be hard to follow, a little concentration is required to tune in to them. The music is delivered by a live band on stage and while it's authentic and uplifting it does also all sound rather the same throughout the show.
There's no single song that stands out from the score, Cats has Memory, Carousel has You'll Never Walk Alone, Mary Poppins has a whole bag of memorable tunes, I'm not sure Come From Away really has a single stand out song, but rather an overall pleasant vibe is achieved.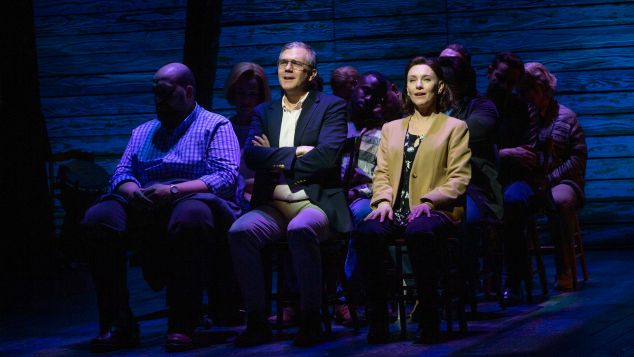 What you do walk away with is an energising revitalisation of faith in humanity and hope for the future. A longing for small town simplicity, and a hankering for community. The opening night of Come From Away drew a rapturous and enthusiastic standing ovation and many cheers.
Come From Away is playing at the Crown Theatre.
Graeme Watson, images Jeff Busby.  
---

You can support our work by subscribing to our Patreon
or contributing to our GoFundMe campaign.