Comical times with The Marriage of Figaro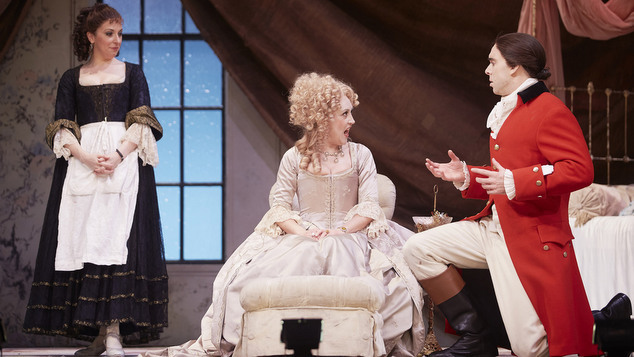 Queer audiences are eagerly awaiting Neil Armfield's upcoming film 'Holding the Man' – but in the meantime the acclaimed director has delivered an amazing production of 'The Marriage of Figaro' with the WA Opera.
While most operas are often somber affairs, Mozart's comedic opera is played for maximum laughs and you'll find yourself laughing out loud and smiling all the way through this farcical fare.
Opera's often have convoluted plots, and this one is no different – but the basic gist is a young couple Figaro and Susanna are about to wed but the Count, whose blessing they need, is trying to bed Susanna himself. Meanwhile the Countess is trying catch the Count in his cheating ways and Figaro may be promised to another because of a debt he owes.
The show opens up with a set that is a beautiful mix of decadence and decay, servants rush around cleaning, cloths dusting and vacuum cleaners being pushed enthusiastically. The incongruous inclusion of a vacuum cleaner in an eighteenth century opera is the first many visual jokes included within the stage design. Later on hair dryers sit next to bed pans and at the wedding scene an urn sits on the table with coffee cups lined up as if we were at the local Country Woman's Association meeting.
James  Clayton excels as Figaro – the best performance we've seen him give to date and Emma Pearson doesn't miss a comedic moment with her portrayal of Susanna. Samuel Dundas strikes a perfect balance with his evil but yet somewhat lovable count.  Elvira Fatykhova is fantastic as the Countess, her opening aria 'Porgi amor' was simply a beautiful moment in the show.
This show clocks in a three and half hours but it's a wonderful production that keeps your attention from start to finish. Mountains of fun and incredibly funny.
The Marriage of Figaro is playing at His Majesty's Theatre until July 25 – don't miss it.   
Graeme Watson