Conchita the Fierce: HIV Disclosure and Discrimination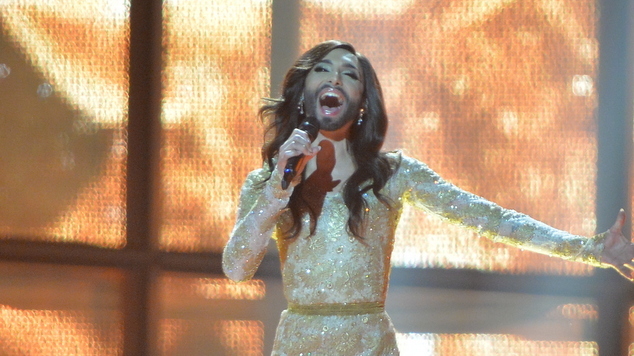 Last month Conchita Wurst came out as HIV positive via social media. Conchita is the stage name for the Austrian singer and performance artist Thomas Neuwirth, who won the Eurovision song contest in 2014 as Conchita for her song Rise Like a Phoenix. In her statement, Conchita wrote,
"I have been HIV-positive for several years. That is actually irrelevant to the public, but an ex-boyfriend is threatening to go public with this private information and I will not give anyone the right to frighten me or affect my life."
There are numerous aspects to Conchita's disclosure of her HIV status that I feel are worth thinking critically about, such as the specific vulnerabilities to domestic violence through HIV, issues around disclosure and discrimination, and the right to privacy. But first and foremost, I want to emphasise that even though Conchita did not necessarily want to be public about her HIV status (which I absolutely support), she stands as a fantastic role model for people with HIV everywhere, along with helping to make visible issues around HIV-based discrimination. It is also fantastic that she took this opportunity to educate about what her undetectable viral load means for herself and her partner/s.
Domestic Abuse and Violence
Threatening to go public with someone else's HIV status is blackmail. In the context of this being an ex-partner who threatens this, it is also a form of domestic abuse. People living with HIV are potentially vulnerable to a range of different forms of domestic violence on the basis of their HIV status, although it should be noted that some forms of domestic abuse may include a HIV positive partner making use of their HIV status as part of domestic abuse to their partner. Historical and cultural associations of HIV with notions of failure, irresponsibility, uncleanliness/dirtiness, 'promiscuity', guilt and shame about stigmatised behaviours associated with HIV transmission, and discomfort about living with HIV itself may impact on someone's sense of self-esteem and self-worth.
These ideas can be utilised by a perpetrator to inflict emotional and psychological abuse, and to also disempower a person from leaving the relationship or seeking help about the situation. While Conchita is in an empowered and knowledgeable position about her HIV status (demonstrated by the way she talked about herself in her disclosure), some people living with HIV may not understand themselves and their HIV in the same way, depending on their capacity to access to support, knowledge, and other resources. Self-perceptions and misinformation about HIV can make a person more vulnerable to a perpetrator who might capitalise on someone's HIV status.
Regardless, even an empowered and knowledgeable person who is blackmailed about their HIV status is put into a difficult position where their right to privacy is infringed upon. In this context, Conchita removed the perpetrator's power over her by disclosing – but she has done so with the risk that the world we live in may not always be so hospitable to people who are openly HIV positive.
The Right to Privacy – Disclosure and Discrimination
Conchita emphasised that her HIV status is 'actually irrelevant to the public' and is instead 'private information'. I was very happy to see Conchita frame her HIV status along these lines, which for her, was about emphasising the gravity of why she was publicly disclosing her HIV status – to not feel controlled or manipulated by her ex-partner. A person's HIV status is typically only relevant to their sexual partner/s and some health provider/s. But context is everything, and putting aside moral claims about disclosure, every jurisdiction has differing laws about when disclosure must legally occur. Australia differs from state to state. In WA, where I am most familiar, a person must take reasonable steps to prevent transmission, which has typically been interpreted to mean the use of condoms for anal and/or vaginal sex.
However, as knowledge about biomedical HIV prevention shifts, there is some discord about whether or not an undetectable viral load would count in the court of law. From a scientific point of view, an undetectable viral load is the best preventative mechanism available – it is slightly more statistically robust than evidence for PrEP, and both PrEP and an undetectable viral load have better evidence of HIV prevention than always using condoms as a singular method of prevention. However, legal and scientific norms are not typically harmonious, and HIV, globally, is a clear case study of this wider issue of gaps and lags between law and science.
Even when abiding by law, disclosure of HIV status can be a 'damned if you do, damned if you don't' situation, because the world is broadly inhospitable to people living with HIV. For example, if you disclose your HIV status up front to your potential sexual partner/s, they may stop talking to you because they discriminately avoid having sex with people with HIV. Maybe if they got to know you, it wouldn't be so bad? Often not the case – if you have anal sex with a condom, have a couple of dates, etc etc – and then disclose as being HIV positive, suddenly you have 'lied' to them or deceived them. Deceived them about what? I have yet to come across a rebuttal to this that does not end up invariably implying that someone living with HIV is somehow 'less human' than the rest of the HIV negative population.
Disclosure has a whole other dimension – 'what is the risk that someone I have disclosed to will disclose to someone else?' Unfortunately, this needs to be said – disclosing someone else's HIV status is a breach of their privacy, even if you think you are 'helping' them. Unless you receive direct consent from the person living with HIV that you can disclose their status to someone else… don't. It is not your information to be passing on. A person's health history is their own private information.
Conchita disclosed to her ex-partner thinking that they would respect this, and unfortunately, they ended up using her HIV status against her. While they did not end up being able to exploit Conchita in the way they possibly wanted to, it did result in her disclosing when she really would have preferred not to disclose. When we live in a world where people do this, it shows that we have a long way to go in addressing discrimination against people living with HIV. I am immensely proud of Conchita's courage in disclosing in such a scenario, but I wish I could live in a world where she did not have to disclose to the public if she didn't want to.
Contact the WA AIDS Council if you need support related to living with HIV. Also check out the HIV/AIDS Legal Centre in NSW for information relating to your legal rights as a person living with HIV.
Perth is also holding an event for the International AIDS Candlelight Memorial this Sunday May 20th at Robertson Park.
Anthony K J Smith