Confusion and outrage as Pride WA limits the number of parade marchers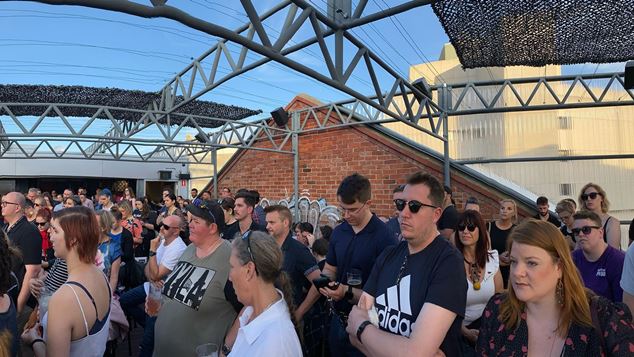 Just three days out from Perth's Pride Parade some LGBTIQ+ community groups are up in arms as they discover they may only be able to have a small number of people marching in this year's parade.
This year Pride WA announced that community groups would need to supply exact numbers of participants marching in the parade, and each person would need to be issued a wristband to enable them to join in the parade.
Several community groups are now reporting that when they went to attend Wednesday night's parade briefing they were shocked to discover that their numbers had been capped and they'll be forced to turn members away from the parade.
The situation has lead to a flurry of social media discussion highlighting the ongoing tug-of-war between the parade's growing popularity, and striking the right balance between community groups and corporate sponsors.
Pride WA's president however has responded saying the situation was not entirely the fault of the organisation, and their volunteer committee of management is working quickly behind the scenes to provide solutions to those affected.
Transfolk of WA, one of the groups that has been affected, said the decision from Pride WA to give them less wristbands than they hoped for was, "disappointing".   They announced to their members that they only been given 20 wristbands when they had anticipated that 100 people would have been joining their contingent.
The group have announced that they will conduct a ballot to determine who can participate. Allies of the community have been asked to withdraw from the parade so transgender and gender diverse people can be included.
Pride WA's Facebook was flooded with messages of complaint. Several people posted messages asking if corporations were being given more spaces than local community groups. This year Pride WA have reported a record number of corporate sponsors of the month long festival.
Followers of the page have highlighted that young people who need a parent or guardian to march will most likely be missing out, potentially robbing people of their first parade experience.
While the growing number of complaints on the Pride WA Facebook page went unanswered, one father who was upset that his transgender daughter would most likely be missing out did get a response from a Pride WA spokesperson.
"The primary reason for the restriction on numbers is health and safety. The parade has grown so much in such a short amount of time, the marshalling area and parade route itself can only accommodate a certain number of people.
"This has been advertised and clear from the beginning of the registration process. We are very sorry some people will miss out this year and we look forward to growing the parade even more next year to accomodate [sic] everyone who registers on time.
"I'm sure anyone who feels so passionately about the parade either registered already or will be able to throughly [sic] enjoy themselves while supporting those who are marching."
He told OUTinPerth he was disappointed in the response, especially the assertion that those who had missed out were less passionate. When the message was shared online it received a number of negative responses.
Emails seen by OUTinPerth that were sent to community groups have included information about the new policy of specific numbers, and the introduction of the wristband system, but it seems several community groups did not notice the new requirements.
Pride WA President Francis Burgess has issued a statement clarifying that the situation has come about because some significant community groups had not actually registered to be in the parade. This had led to last minute attempts to ensure they did not miss out completely.
Burgess denied that there had been any attempt to limit particular groups from participating in the parade.
The Pride WA President encouraged people to be respectful and understanding of each other, noting that challenging conversations arise when people with different values and opinions come together.
---
Statement from Pride WA
Pride WA is a member based organisation run by local LGBTQI+ volunteers and allies.
We encourage all LGBTQI+ community members to get involved with Pride WA, either as a volunteer, committee member or financial supporter.
The 2019 Pride Parade is this Saturday the 30th of Nov. It will be Perth's biggest parade ever, with over 110 floats.
On Wednesday night the pre parade briefing did exactly what it is designed to do. Answer questions about the parade and identify any issues.
In order to be fair and inclusive with limited space and overwhelming demand the Pride WA Committee allocated each float 100 people. As part of the registration process float entrants confirmed their final numbers. The vast majority of floats did this which enabled Pride WA to extend the total number floats beyond the original 100 cap.
After registration closed Pride WA recognised significant community groups had not yet registered. Pride WA have continued to assist those key community groups to maximise their participation in the 2019 Pride Parade.
There has been a lot of commentary recently about Pride WA excluding or limiting wrist bands for certain groups.
This is not the case. Pride WA suggests anyone yet to confirm their participation to liaise directly with your organisation and their leadership team.
Being the first year that parade participants require wrist bands we appreciate there has been some confusion.
As the Perth Parade grows to become Australia's second largest there are inevitably some things that need to evolve to ensure the safety of everyone in the parade as well as spectators and the local community.
The use of wrist bands brings the Perth Parade inline with other significant cultural events around the country. It also enables the organising committee to provide logistical information to local authorities as well as fellow participants.
As Pride WA celebrates 30 years, it is the opportune time to reflect on how far we have come and how much we have grown. Pride WA have always strived to create a diverse and inclusive community. Sometimes challenging conversations arise when people with different values and opinions come together. These challenges help us to become more understanding and respectful of one another.
Pride WA welcomes any delegation that wishes to support the LGBTQI+ community. We would like to thank all of our members, volunteers, sponsors, partners and community supporters. With out each and every one of you there would be no Pride WA.
Happy Pride
Francis Burgess, President Pride WA
---
Pride WA spokesman Reid Smith appeared on All Things Queer on RTRFM on Wednesday and announced that this year's parade would include a record 115 floats.
"There's about 115 on the list which is the biggest ever, it's super exciting. We're obviously very sad that not everyone that wanted to be in this year was able to be accomodated, we're just getting too big, and it becomes a bit of a safety thing, and just managing all those people."
Smith said Pride WA were hoping that in 2021 they would be able to keep growing and accommodate more people participating in the parade.
Graeme Watson, Image: Prade Briefing Pride WA Facebook 
---