Conrad Liveris Experiences Being Homeless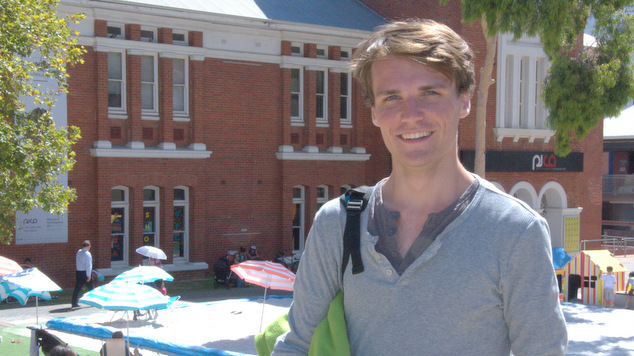 While other people might head off to Bali for a week or go camping down south Conrad Liveris chose something very different to do last week.
"I decided to live on the streets for a week and experience what it is to be homeless in Perth. It's pretty rough to put it bluntly," said Liveris when OUTinPerth caught up with him half way through his week on the streets.
Last year Liveris and some friends founded the non-for-profit organisation 'Street Smugglers' which aims to raise an awareness about homeless.
"Homelessness shouldn't be the only option for people," said Liveris, "Especially in a city like Perth."
Liveris found that sleeping rough on the streets of Perth and in it's parks is actually quite challenging. Liveris recounts that he was caught by the sprinklers and covered with bore water one night.
"Just because it's summer it doesn't mean it's hot at night, it's freezing," declared Liveris who says his biggest struggle is keeping cool during the day and warm at night.
The humanitarian also noticed that after a few days of not shaving and being really tired through a lack of sleep that people stopped looking at him. He recounts a trip down St George's Terrace where everyone turned their eyes away from him. Liveris said only one person came up to him and asked if he was okay.
As we chat a sleepy looking Liveris explains that he didn't get much sleep the night before. He'd tried sleeping in a park in East Perth where he'd previously got a good night sleep but last night was filled with disturbances, other people in the park were noisy and whichever way he turned he found the wind was blowing straight at him, and then it began to rain.
When asked if he felt safe while sleeping rough, Liveris said it was a hard question to answer. ,
"You don't prioritise safety," said Liveris "Your priority at night is to sleep, and then during the day you're focused on conserving energy and getting food."
Liveris is careful to ensure that he doesn't get in the way of genuinely homeless people searching for food, and he has given himself a budget of $5.00 for each meal.
The experience has allowed Liveris to meet many people who are homeless and he said he surprised by how many of them are teenagers.
"I had dinner with some guys who were 17 and 18 and they'd been homeless for years. I met a 16 year old girl who had had the most horrific life, but she so mature too." Liveris said.
Liveris said he was also surprised to find out that homeless people knew a lot about what was going on in the city saying they were more up to date on local news that anyone he comes across.
Passing the time during the day is one of the biggest challenges Liveris has come across. He spent a significant part of his day at the State Library as it was of the few places where he could come in and charge his phone.
Family breakdown is the most common cause people have shared with Liveris on why they become homeless and many of the people he's met have shared their stories of how their families fell apart.
Psychologically loneliness has been a challenge for Liveris. He says the hours between five, when he's forced to wake up, and 9am when the city begins to get busy are the hardest. He shared how he finds himself craving human attention.
Liveris says he's very glad to know at the end of the week he'll have a home to return to but questions what his psycholigical state would be in he did not have a home to go to.
Find out more about 'Street Smugglers' at their Facebook plage.