Couple who have been together for over 50 years want marriage equality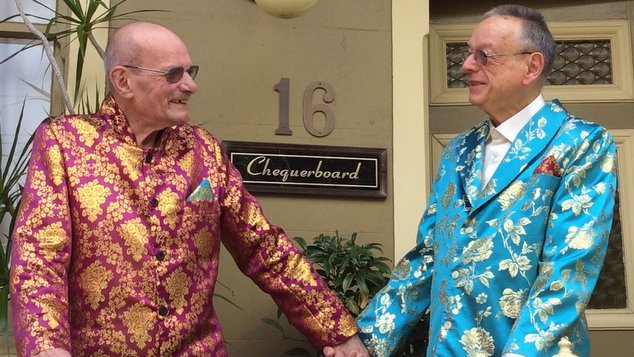 When the floats head up Oxford Street tonight the Equality Campaign will have the largest float in the Sydney Gay and Lesbian Mardi Gras with more than 200 volunteers from around the country marching for marriage equality.
Appearing in one of the open cars will be Peter de Waal and Peter Bonsall-Boone who celebrated their 50 year anniversary last year.
Mr de Waal said, "Since the Mardi Gras started Bon [Peter Bonsall-Boone] and myself have only missed six or seven parades.
"We have been in the parade many times. Over the years we have been a part of various causes we felt strongly about and we represented those causes in the parade."' de Waal said.
"Marriage Equality has been a cause close to our hearts for almost half a century.
The Equality Campaign Executive Director, Tiernan Brady said the campaign for Marriage Equality will continue to grow every day and in every part of Australia until it becomes law and that tonight's largest float would be just one way of highlighting the incredible support for the
"The Australian people want marriage equality to happen, the world of politics needs to stop standing in their way.
"The float will highlight a few from the thousands of Australian relationships that deserve equal recognition. 
 William Le and his grandmother Bà, will also be on the float showing that Australians of all ages support marriage equality.  William is a gay man from a Vietnamese family who love him and just want him to be happy.
"We are living in a society where we should let them be themselves – as parents, all we want is to see our children happy,' Bà said. 
"I just want them to love each other and live together in happiness."
Since starting in 1978, the Mardi Gras has become a major platform to highlight issues that matter to the LGBTIQ community.
Historian Dr Shirleene Robinson said, "The LGBTI community has come a very long way since 1978.
"Marriage equality matters because it is one of the remaining places in Australian society where LGBTI Australians are treated differently to their heterosexual friends, families and workmates."
OIP Staff, Media Release from Australian4Equality