Courier Mail Apologises for 'She Male' Headline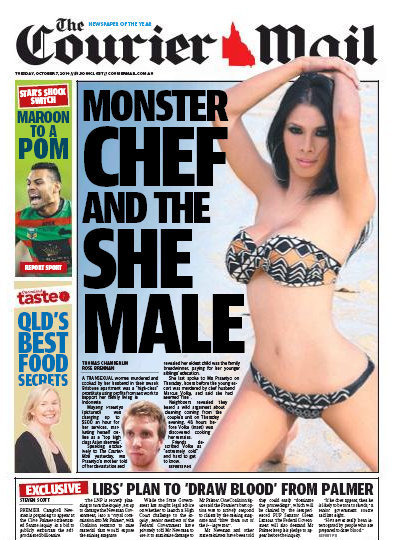 Brisbane's Courier Mail has issued an apology for its coverage of the murder of transgender woman Mayang Prasetyo.
The newspaper attracted outrage when it published the story under the headline 'Monster Chef and the She Male'
The apology was published on Saturday the 25th of October, almost three weeks after the headline in question was published.
Over 27,000 people from around the world signed an online petition calling for the Courier Mail to issue an apology for using a derogatory slur.
"Every mainstream media outlet in Queensland had published identical facts about Mayang and her killer's gender and profession as well as the same pictures," the statement said.
We responded at the time, restating that Mayang was the innocent victim of a dreadful crime, and that publication of the details of her life and murder were never in any way intended to disrespect her or upset her family. Her mother, who we were in contact with, through the week never expressed offence.
"In our reporting, we never intended to offend any member of the community. Clearly the coverage did, unintentionally, offend the LGBT community and others, and for that the newspaper is sorry."
On its social media, the Courier Mail highlighted that it had invited the president and secretary of the Australian Transgender Support Association Queensland to write an article representing the views of the transgender community, which was critical of the way the paper had covered Prasetyo's murder. The article in question can be read here.
"Sometimes our coverage is by its nature confronting and evokes a range of emotional responses. Intentional offence in this case, however, was not one of them." the newspaper said in a statement today.