Craig McLachlan Returns to Transylvania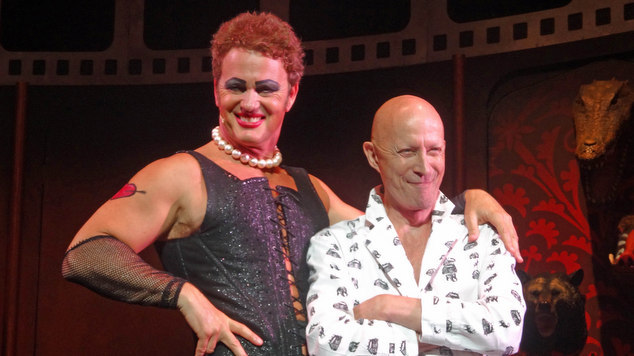 Craig McLachlan is returning to Transsexual, Transylvania to take in the lead in The Rocky Horror Show. A seasoned Frank-N-Furter veteran, McLachlan is reprising a role he took on in 1992. Twenty two years down the track, the star spoke to OUTinPerth about how it feels to be getting back on the slab.
When I asked him what excited him most about reprising the role, McLachlan laughed.
"Oh, quite apart from slipping the fishnets back on, striding around the stage in a seven inch heel, wearing a corset of course and just being thrilled with the fact that I can actually fit into a corset of the same dimensions that I wore twenty-something years ago. Do you know what, it's just, for me in all seriousness, I'm enjoying it so much more because I'm getting so much more out of it. Now that may sound odd but the twenty-something year old kid- I guess I was in my early to mid twenties when I did it the first time around- it was really just about, you know the force of most enjoyment is just frocking up, going out and bashing out some great rock and roll songs and trying to be as shocking as I could possibly be, and just causing plenty of outrage and enjoying the sheer naughtiness of it. Revisiting it twenty years down the track with a lot more experience under my belt- not only life experience but just experience, as an actor and musician, doing lots of stuff on either sides of the equator, I can look at the piece differently, I can see and recognise there's a lot more going on than I initially realised as a youngster. "
With all the enthusiasm of a true fan, McLachlan said that the second time around he's become more appreciative of the script and find he has a lot more to get out of the role from the extra twenty years of experience and perspective.
"As a twenty something year old guy I just didn't realise how clever Richard O'Brien's lyrics were. If you look at the song "Science Fiction (and I'm probably not telling Rocky Horror fans anything new) in that song he very cleverly references all of the great moments in B schlock horror Hollywood history. He just succinctly ties it up in a fantastic three and a half minute song and it just rolls on from there. You know lyrically I appreciate the show a lot more. What's wonderful about this production too, as you will hear if you come long and see the show, the arrangements have been stripped back to their honest to goodness Rock and Roll bones. There's no superfluous keyboard or simulated strings, there's no dizzying digital trickery going on. It's back to Richard O'Brien's compositions, Richard Hartley's original arrangements played by a smoking rock n' roll band. It's just guitars, drums, bass, piano and a screaming saxophone. It's great, you'll really dig it."
McLachlan has played a number of iconic Broadway roles including Danny Zuko in "Grease". I asked him if he had his eye on any other big musical roles, and he answered with no trace of hesitation.
"No. [Laughs] Here's the funny thing, not that it's particularly well documented here in Australia, I mean yes obviously Frank N Furter, Danny Zuko, Billy Flynn in "Chicago", believe it or not I even played The Fonz in an ill-conceived musical version of "Happy Days" that played in arenas. But the truth is, I never had any designs to do musical theatre and I'd done a lot in the Northern hemisphere playing a lot of iconic figures. Rocky Horror was the one exception though because as a kid, as a youngster growing up where I did in New South Wales there were no drama schools, theatre schools or anything like that… One of the records in my brother's record collection in the early 70s was believe it or not the original cast recording of Rocky Horror with Reg Livermore singing the Frank part. I had no idea what the images on the inside of the cover represented or if men were men or women were whatever, and I had no idea what the lyrics meant. "Toucha toucha toucha touch me I want to be dirty"- really? As a ten year old you don't really get the gist of any of that. But I knew that musically, it really spoke to me. And so Rocky Horror from the age of like ten was part of my musical education. So when the opportunity presented itself in the early nineties to do the show I just had to do it. "
You can catch Craig McLachlan in The Rocky Horror show at the Crown Theatre from February 13th to March 9th. Book tickets at www.rockyhorror.com.au
Sophie Joske