Researchers exploring meth, pleasures and sex between men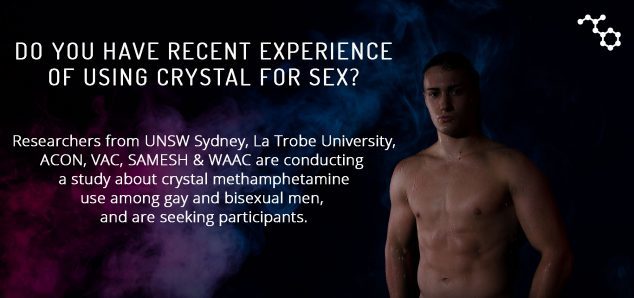 Researchers from UNSW Sydney, La Trobe University, ACON and Victorian AIDS Council (VAC) with assistance from community-based organisations South Australia Mobilisation and Empowerment for Sexual Health (SAMESH) and the Western Australian AIDS Council (WAAC) are conducting a study about crystal methamphetamine (also known as ice, crystal, meth, Tina) among gay and bisexual men.
We are particularly interested in talking to men who use crystal methamphetamine for sex in Perth.
We are interested in how using crystal during sex can be enjoyable and help with socialising, but also how it can be harmful; and we are interested in documenting the ways men manage these harms and protect themselves.
The study is seeking gay and bisexual men who are 18 years or older and who have used crystal methamphetamine in the past 12 months. We are particularly interested in talking to men who have used crystal for sex.
We will ask you to take part in a confidential 1-hour interview at a time and place of your choosing. We will offer you $40 for your time and contribution.
The study is recruiting in Sydney, Melbourne, Perth and Adelaide.
We hope this research can improve understanding about how gay and bisexual men experience crystal, especially during sex, and how services can better meet their needs.
If you are interested in being part of the study, please contact the researchers via the study website.
If you would like more information about the study, please contact Dr Kerryn Drysdale
Tel: 02 9385 6412 during work hours.