Curiously Quaint Iceland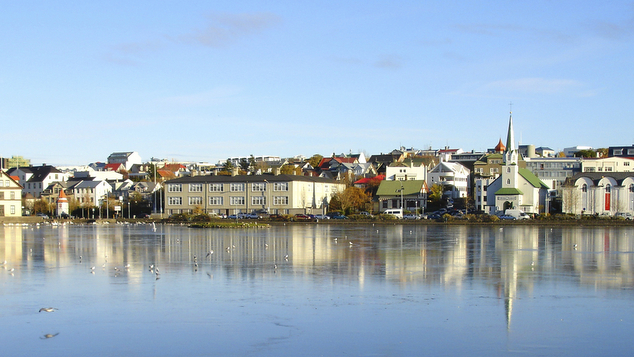 It's a long journey to visit Iceland, but you'll be rewarded with a city that's filled with quaint wooden houses, stunning views and a unique culture. It's a country filled with natural wonders, a distinctive cuisine and an incredibly friendly local population.
As soon as you touchdown in Iceland you struck by its distinctive, almost alien landscape. Iceland is a land that is mostly large desolate flat plains of volcanic rock covered in bright green moss and grass, while in the background mountainous volcanos loom high above.
The city of Reykjavik is like a small country town. It's filled with gorgeous wooden houses, painted different bright colours and dark grey cobblestone streets. The main street is filled with little cafés, shops displaying handmade crafts and an interesting mix of fashion, design, music stores and a surprising amount of retro shops crammed with 70's clothes and curios.
It's a great place to hang out in café's drinking coffee, indulging in soups and the variety of fish dishes that make up Icelandic cuisine. One great dish to try out is Polkfiskkur, a combination of onions, mashed fish and potato. For the more adventurous you'll also find fermented shark, whale and horse on most menus.
Looming over the village skyline are the spires of churches and the very modern opera building. The Hallgrímskirkja Cathedral is an intriguing sight. Building began in 1945 but it wasn't completed until 1986. Unlike many churches it's incredibly simple in its design. Inside the walls are stark white and its windows don't have any stained glass and there are few statues. A massive pipe organ makes it a regular location for concerts and climbing its massive spire will reward you with a great view.
A newer edition to the cities skyline is the stunning Harpa, a massive glass opera house and convention centre that is a really interesting building. Made up of hundreds of glass panels it's intriguing from the outside, but from within – the panels make a mesmerizing series of optical patterns. Its design cleverly references the famous Aurora Borealis – the northern lights that appear in the winter sky.
A short bus ride out of Reykjavik is the world famous Blue Lagoon. A natural spring that is geo-thermically heated to a steaming 38degrees. Filled with silica mud the water is bright blue and the steam visibly rises off the water into the cold landscape. A soak in the pool and a mask of silica mud will leave you feeling revitalised with silky smooth skin.
Iceland is loaded with other natural wonders including trips to volcanos, the world famous Geysir in the island's south west is a spring that spurts water 70m into the air ever few minutes. There's also trips with horses, opportunities to travel across glaciers and visits to the massive Gullfoss waterfall. Bring some cash though, the cost of there tours can quickly pile up.
Surprisingly it's not incredibly cold, as Iceland benefits from warm air from the warm North Atlantic current. In May most days were around 10 degrees and you needed just a jumper and an umbrella when heading out. There are regular light showers. The summer sun sets just before midnight and rises just three hours later. The time between is dim, but not dark. Visiting this country in winter though would be a very dark experience!
Graeme Watson