Debbie Reynolds – A life-long fan, Princess Leia's mum, and a show!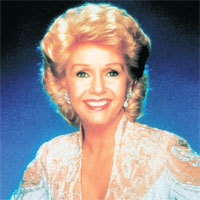 It all started with a letter.
At the age of 11, Peter Keogh wrote a fan letter to Debbie Reynolds, who did and still does, personally reply to all of her fan mail.
Peter kept the three page response from Debbie and in the years that followed also saved numerous recordings of Debbie's, eventually making a gift of his collection to his idol.
Debbie explained, "When I did a tour in 2006 Peter presented me with all this material, recordings I didn't know I'd made. He had everything I'd ever done, every tape, every album, every show, movie or play.
"I was amazed and I was truly flattered that halfway around the world there was such an ardent fan. In fact, with those old and rare recordings he gave me last year, I now use them to open my nightclub act.'
Now, decades since she responded to Peter's letter, and 35 years after she first starred in the titular role in Irene in 1973 on Broadway, Debbie Reynolds is coming to Perth and take on the role of Irene's mother. And the one person who has made it all possible – Peter Keogh will co-produce the production along with partner Sacha Mahboub at His Majesty's Theatre.
While I am not as long-standing or devoted a fan as Peter, I nevertheless had the privilege of interviewing Debbie Reynolds about the long road, full of men and the follies that always seem to come with them, that has led her to this performance in Perth.
"So you're coming to Perth for a couple of one-off shows at His Majesty's", I said to get the ball rolling… "Yes, I'm so excited and I owe a lot to Peter and Sascha, it was all their idea, you know, they suggested it would be fantastic and kinda' ironic that I've lived long enough to play both the leading lady and the Patsy Kelly role (Irene's mother). I first opened Irene on Broadway in 1973 and now in 2008 I'll be playing the mum, won't that be fun!"
Despite a long career in the spotlight, Miss Reynolds, ever the gracious star, explained, "I don't mind answering questions. My life has been an open book since day one. Since 16, I have been in movies, theatre, plays, I've toured and really I've had a fabulous life of travel and doing different roles. So, I don't have any objections to questions (hesitates) one thing is always asked, 'Are you and Elizabeth (Taylor) still friends?' And the answer is, yes, we are friends, though probably no one believes it. We both laugh about what has happened to our lives and the past and the circumstances that lead up to it. Life goes on, you know!"
For those too young to remember, Debbie Reynolds married Eddie Fisher in 1955. They divorced in 1959 after Fisher left Debbie and their two children and ran off and married Elizabeth Taylor, a major scandal at the time.
Men, it turns out, were something Debbie and I were able to commiserate about. Debbie's second husband, shoe magnate Harry Karl, gambled away his fortune, as well as Debbie's. At one particular low point, Debbie confessed to literally living in her car – a Cadillac!
"My life has had its ups and downs just like everyone else's, sure there were tough times, especially when you marry three men whose primary motivation was money!"
Even now, years later Debbie she still doesn't know why she chose the men she did. As she told me, "If I knew that answer I would marry again. I just think I have terrible taste in men, and if there's a bad guy around, I'm 'gonna' find him!" she says, as she laughs at length. "I think it's something like the measles; I just have very poor taste in men. And my daughter [Carrie Fisher, of Princess Leia fame] seems to have contracted the same disease. I married a short boy singer; she married a short boy singer [Paul Simon]! I made Singing in the Rain; she made Star Wars!"
The men that Debbie has always been able to count on are her many adoring gay fans. She recently performed on a Gay Cruise to Mexico, and she raved about it.
"Oh, I had a wonderful time, just wonderful! There were only 25 lesbian couples on board and the rest were all gay boys. They all secretly wanted my dresses, my feather boas. Some not so secretly, they'd take it right off my body! Gay boys have such a great attitude to life and the cruise was a great success. I'd love to do another one."
Of course, there is no greater fan than that eleven year old boy Peter, who now fully grown, prepares to revel in the role of producer for Miss Reynolds in the Perth performance of Irene.
The play, which originally opened at New York's Vanderbilt Theatre in November 1919, ran for 670 performances. With such hit tunes as Alice Blue Gown, I'm Always Chasing Rainbows, and You Made Me Love You, this toe-tapping musical lifts the spirits like no other. Irene first played at His Majesty's Theatre in January 1983, those performances were also a sell-out.
This year will mark the 25th Anniversary of Perth's first production, and Irene in Concert hits Perth at His Majesty's Theatre for seven performances only from January 25 – February 2.
This production will not be touring Australia, so Perth is the only place you will see such an enduring enchantress of the stage and screen, Miss Debbie Reynolds! And sitting front row centre will be the two guys that made it all possible, the dynamic duo (celebrating their 20th anniversary together next year), none other than number one fan Peter Keogh and partner Sacha Mahboub.
It's an 11 year-old boy's dream come true!
Terry Larder