'Democracy Repair Services' asks explosive questions about change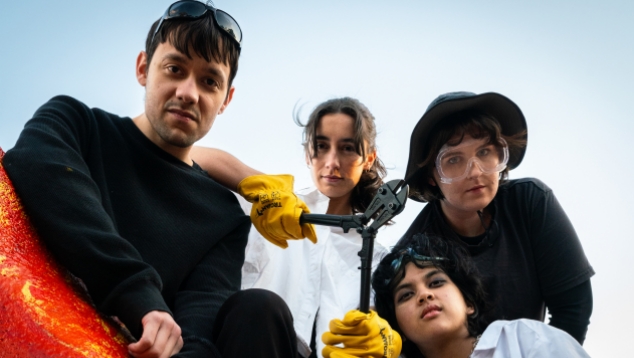 Follow a group of four teenagers wrestling with how to make a difference, what constitutes democratic process… and whether or not to blow up a pipeline. Do we change the system from within or blast it open to create something entirely different?
Writer and activist Noemie Huttner-Koros (Mother of Compost, The Lion Never Sleeps) alongside director and poet Andrew Sutherland (Salome Delta, small & cute oh no) pull you into the fiery, tender world of youth activism at The Blue Room Theatre this November. Assisted by the dramaturge Emily Mclean (Salted Pretzels, Toast), Noemie & Andrew are continuing their dynamic collaboration from successful premiere Mother of Compost (The Blue Room Theatre and M1 Singapore Fringe Festival) with new play Democracy Repair Services.
These local legends have assembled an exceptional team with assistant director Makaela Rowe-Fox (Seven Sisters, December Project), producer Briannah Davis (You're So Brave, Salome Delta) and design team – AV designer Edwin Sitt (Two Canaries, Mercury Bones Situ-8 City), sound designer David Stewart (Hell Is Other People, Mercury Bones Situ-8 City), Lighting designer Jasmine Lifford (See You Next Tuesday, Borderline) and Set & Costume designer Molly Werner (A Wrinkle In Time, Mama Stitch).
Working alongside this skilled team, a fierce group of up and coming artists perform the roles of the teenagers grappling with their own power and powerlessness in the midst of a heatwave and an election campaign. Emerging First Nations performers Rali Maynard (WAYTCO Senior Ensemble) and Gabe Critti- Schnaars (Wonderbox Sensorium), alongside performance-makers Phoebe Eames (We'll Always Have Bali, The Blue Room Theatre) & Zoe Garciano (Takeaway, The Blue Room Theatre) will bring you the latest teen spirit gang of your dreams on a journey to try and fix democracy, one political stunt at a time.
Inspired by a decade of lived experience in climate activism & campaigning, Huttner-Koros ('21 WA Young Environmentalist of the Year) brings you this new play to spark conversations about what democracy can look like, both in large contexts and in our day-to-day lives.
The Blue Room Theatre will be re-envisioned as a place not only for performance but a space for political expression. Each week of the season, there will be a series of community engagement events open to the public about civil disobedience, climate justice and youth activism.
Don't miss your chance to see the premiere season of this engaging and thought-provoking play. Tickets available at blueroom.org.au
Image: Edwin Sitt
---

You can support our work by subscribing to our Patreon
or contributing to our GoFundMe campaign.