DIVAS – All Male Revue brings your favourite ladies to Fringe World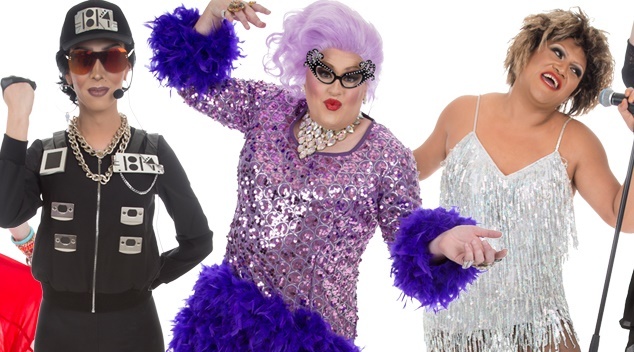 Celebrity impersonation is a talent of many a drag performer. From Chad Michaels to Charlie Hides, queens across the world have made their mark on the community by capturing the essence of our favourite divas. Feminem has rounded up a selection of Perth's best to showcase the incredible talent we have right here in Western Australia.
Local performers Veronica Jean Jones, Katya Kokov, Amanda Love, Delvira Midnight and Ruby Jewelz will be taken over by every diva from Adele to Liza-with-a-Z in DIVAS – All Male Revue. We caught up with Fem to find out what being a diva is all about.
What makes a diva?
A diva is ultimate show biz icon… or as Beyonce would say "a female version of a hustler"
One of the entertainers you're going to be impersonating is Dame Edna – what's the hardest bit of portraying the purple-coiffed lady?
The hardest thing with Edna is her voice. Its very distinct and instantly recognisable, so making sure that it is as authentic as possible is very important.
How's your Fringe World show different from a regular show in a gay club?
DIVAS – All Male Revue is a full scale production that runs for 75 minutes. We have 12 characters in total and over 20 costume changes. Most night club shows are about 15 minutes and you'll normally see three costume changes. DIVAS is bigger in every sense of the word.
Who else is in DIVAS – All Male Revue?
As well as some of the iconic divas seen on the poster (Kylie, Cher, Tina, etc) we will also be featuring a few of the current up and coming divas like Adele, Ariana Grande and Meghan Trainor.
Do you fight over who is going to be each diva? Does everyone want to be Liza?
Matching characters to performers was actually very easy. We look at height, body shape, skin colour and work out who has the closest match to the divas. Makeup and costume also play a huge part in making sure our impersonations are as close to the real thing as possible.
What others shows are you intrigued by in the Fringe World program?
Adam Peter Scott's Trivia Death Match is a must see! I am also super excited to see Le Gateau Chocolat and Jonny Woo in A Night At The Musicals.
Catch DIVAS – All Male Revue at Connections Nightclub on Wed 15th, Fri 17th and Sat 18th February, 8pm. Tickets and more information available from fringeworld.com.au