Divine Messengers: 25 Years of 'Angels In America'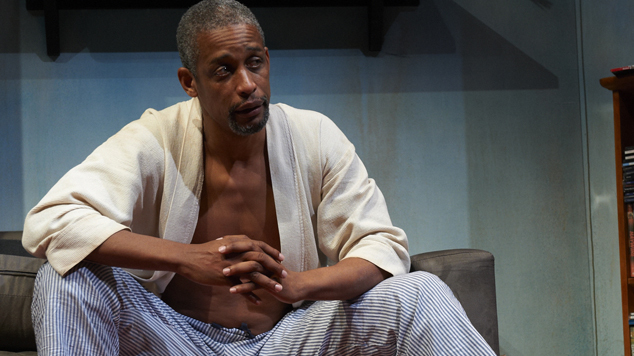 Black Swan State Theatre Company are staging a special 25th anniversary production of 'Angels In America', the groundbreaking story of the devastating AIDS crisis that shook the LGBT community in the 1980s and '90s.
The play tells the bare and confronting story of eight characters whose stories interweave as they each navigate the role HIV/AIDS takes in their everyday lives. Actor Kenneth Ransom, who plays retired drag queen Belize, spoke to OUTinPerth about spirituality, drag and the longevity of 'Angels In America'.
I hear you have a personal connection with 'Angels in America'?
A man by the name of Oskar Eustis who is a brilliant dramaturg, 'Angels' is evidence of that, he now runs the Public Theatre in New York and he's become a producer on 'Hamilton' – which is the next great American piece. [My wife] Kate was studying with him at the time at UCLA where he was teaching directing. So we happened to be two of the lucky participants who were watching the first reading, just by virtue of knowing Oskar. We watched it and thought, "We've never seen anything like this."
Does it still feel groundbreaking after 25 years?
I remember Tony [Kushner] talking about the play at the 20th anniversary actually, and he was saying that some of the things in the play about the ominous future have actually happened. Global warming, for example, actually happened but we don't seem to accept they've happened. It seems we have less fear about it. What we had before the turn of the century that we don't have now is that there was a real anticipation about what that meant with Y2K and the like. The whole world was going to change in 2000, somehow the clock would tick over and there'd be this difference. A lot of the things discussed in 'Angels' still need to be addressed today. You can live with HIV now, but at the time that Angels came out [HIV/AIDS] felt like a death sentence. That was what people believed about it. Now that people can live with HIV, it's taken that edge off of it. Talking to my wife though, who is directing the play, we had to remember that that was the feeling at the time. Everything that's talked about in 'Angels' is still a major issue today.
One theme that is certainly still relevant is the characters reconciling spirituality and sexuality. Is Belize a particularly religious character?
No! (laughs). His religion is life. Or drag. That's what great about Belize, is that he's a truth-teller. It occurred to me that he's like a fool or a court jester, he just says it. It's not necessarily said in the nicest way but somehow the truth just comes out of his mouth. The Mormon character is grappling with religion and Louis is grappling with religion in the complete opposite direction. Belize is his chosen name, his chosen persona and that's his means of escape.
Belize is a drag queen, but he doesn't don drag in the show. How do you prepare for that role?
I've been going to drag shows. I went to go and see Barbie Q and I saw some shows in Brisbane while I was there. I will probably go and see more, just to know that environment that Belize comes out of to see what makes them tick. I've agreed to do more drag, just not on stage.
'Angels In America' will be at the Heath Ledger Theatre from 28th May – 19th June. Tickets and more information available from BSSTC.com.au.