Anti-transgender doctor Quentin Van Meter to appear at UWA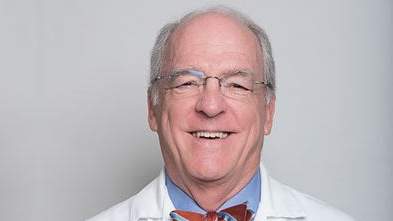 The President of the dubious American College of Pediatricians is set to appear at the University of Western Australia (UWA) on Friday.
Dr Quentin Van Meter is touring Australia as a guest of the Australian Families Association speaking about his belief that transgender people are mentally ill, and that the worldwide push to recognise transgender rights is part of "cult theory" phenomenon.
A petition opposing the University hosting the talk has quickly garnered hundreds of signatures.  In less than 24-hours over 2,400 people voiced their concern about the doctor's talk occurring on campus.
UPDATE: UWA responds to community concerns about anti-trans doctor appearing on campus

It is understood that the university only became aware of the nature of the room booking when the Australian Family Association began publicising the event.
Thomas Drake-Brockman, who launched the petition, said as a student who is currently studying medicine at the University, it was alarming to see the event being held on the campus.
"The location gives it legitimacy, and even if the University is simply acting as a conference facility they should put out a statement saying if the content of this talk is useful or valid." Drake-Brockman told OUTinPerth.
The student said anyone who studied science and the scientific method would be concerned about the statements on the website of the American College of Pediatricians.
TransFolk of WA, an advocacy and support organisation for people who are transgender, have also shared their concern about the upcoming presentation.
"TransFolk of WA is disappointed to hear that UWA is hosting an event insensitive to the trans and gender diverse community and we believe the message it is promoting, hinders us moving forward to equality." a spokesperson for the group told OUTinPerth.
"We understand that freedom of speech is a fair assumption for all, but where information is not based on the best medical information available, it can be harmful."
The American College of Pediatricians is a small lobby group with a long history of opposing LGBTIQ+ communities around the globe. The respected Southern Poverty Law Centre have designated them as a hate group.
The group has around 500 members, as opposed to the much larger American Academy of Pediatrics which has over 64,000 members. The splinter group formed in 2002 when some members disagreed with the Academy's policy position which supported gay people being allowed to adopt children.
The group push for conservative policies in the political realm, arguing against gay adoption, same-sex marriage, same-sex sex education and transgender rights. The organisation is also opposed to abortion and the HPV vaccine, and argues that abstinence should be promoted over other safe-sex strategies.
While the World Health Organisation have removed being transgender from their official lists of mental illnesses, when speaking to Vision Christian Radio last week ahead of his Australian tour, Dr Van Meter said he supported the previous definition.
"The concept of gender identity disorder, it was indeed a mental disorder. It is a delusional state, where an individual who is a male believes their mind is actually that of a female, and their body should be changed to essentially impersonate the female physically – and likewise in females who believe that they are born into the wrong body." Dr Van Meter told the 20Twenty program.
The endocrinologist told host Neil Johnson he believed the correct way to treat people would be the same as any other treatment for a delusional state, comparing being transgender to anorexia or people who believe they need a limb removed. Transgender rights advocates have previously highlighted that Dr Van Meter is not qualified in psychiatry, and his expertise is in the field of hormones.
In the interview Dr Van Meter claimed that he believed that many transgender people would be able to trace their gender dysphoria back to a childhood experience – saying often it came from parents paying more attention to a sibling of the opposite gender.
The endocrinologist told Vision Radio, that by undertaking gender reassignment surgery transgender people were making themselves "a permanent costume" but they were still the gender they were born as.
Dr Van Meter said people who undertake gender reassignment surgery might be happy for a period of around ten years, but would eventually become unhappy. He speculated that religion played a big part in this transformation, even for people who were not religious.
"Their outcomes are good for about ten years, and then past ten years they come to the reality in their life, for whatever reason, perhaps their religious faith coming back into their lives and making them realise they've made a tragic mistake which they cannot undo without great difficulty."
Dr Van Meter said opting to have gender reassignment surgery left people with mutilated, hormone changed, cancer risk, infertile bodies.
The President of the University of Western Australia's Student Guild said the event did not belong on the campus. Megan Lee told OUTinPerth that the message being promoted by Dr Van Meter was at odds with the University's values.
"The UWA Student Guild strongly believes that campus should be a safe and inclusive environment for everyone, especially marginalised and underrepresented groups such as the LGBTQI+ community. We firmly support our Trans students and stand against the decision to allow the Australian Family Association to host Dr Quentin Van Meter on campus, whose message stands in direct opposition to the values of tolerance, acceptance, and inclusion that the Guild espouses." Lee said.
"The presence of the Dr Van Meter on campus and his opinions on LGBT+ people, especially Trans people is deeply hurtful and traumatising to our students who already feel particularly targeted by transphobic discourse in wider society.
"The UWA Student Guild does not in any way endorse the message that the Australian Family Association or Dr Quentin Van Meter promote or this event. The Guild strongly believes that we should be promoting the voices and knowledge of Trans people on this issue, not the voices of those that amount to hate speech. University is place for discussion and independent thought, but it is not a platform for hate speech and the Guild does not tolerate hate speech in any form."
The university's policy on supporting transgender students and staff describes UWA as a place that aims to create a trans-friendly culture, stating; "UWA aims to create a trans-friendly culture, free from discrimination and harassment, where all staff and students are treated with dignity and able to realise their full potential in a fair and inclusive workplace and learning environment."
The University has been consistently named as one of Australia's best employers for LGBTIQ+ people and has been highly ranked on the Australian Workplace Equality Index. In 2017 the University was declared a 'Platinum Employer' having been consistently highly ranked on the index since its inception.
UWA's Facebook page has also filled with posts regarding the upcoming talk with people questioning why Western Australia's oldest university would even take a room booking for the presentation.
Dr Van Meter's talk is accompanied by the launch of a book by author Patrick Byrne titled Transgender and Implications for law, man and woman, schools sport, politics and democracy.
During the marriage postal survey last year Byre was the authorising officer for a website from the Australian Family Association which argued that same sex marriage is transgender marriage.
The website claimed that allowing people of the same gender to web would lead to Australia having 24 million different gender options – with every person choosing a unique gender identifier.
Graeme Watson
OUTinPerth contacted the University of Western Australia and the Australian Family Association and asked them about the upcoming event. Neither were able to respond by our publication deadline but we have subsequently published their response.  
An earlier version of this article incorrectly identified Dr Van Meter as the Vice President of the American Academy of Pediatricians – he is the President.
---