Elton John blasts Russia over their poor treatment of LGBTI people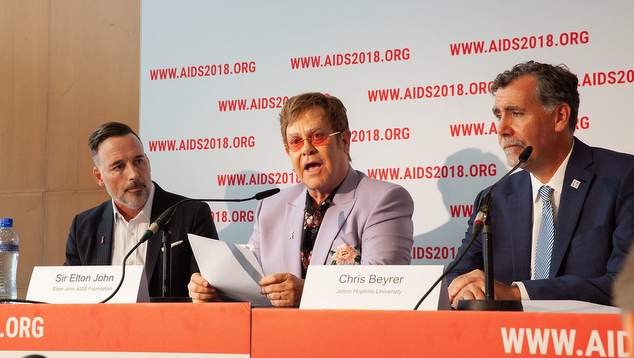 Sir Elton John has spoken at the 2018 World AIDS Conference in Amsterdam blasting Russia for their poor treatment of gay, lesbian, bisexual and transgender people saying their tough laws is having a direct effect on rising HIV transmissions.
The musician, who has raised millions of dollars for HIV/AIDS research through his foundation, said the high level of stigma and discrimination faced by the LGBTIQ+ people in Russia was a direct contributor to the rapid growth of new cases of HIV.
Sir Elton said he was "very anti" towards anti-gay propaganda laws.
"We're here to protect them and for everyone who's HIV [positive] but especially for the LGBT community that has suffered so badly and are still suffering and it makes me crazy," Sir Elton said. "If there wasn't this discrimination we could get rid of the disease far quicker."
"Until we get that idea out of our head that gay people are 'less than' then I am afraid we will still be sitting here in 20 years time discussing the same thing," he said.
"To be an LGBT person in Russia is very difficult," Sir Elton added.
The musician argued that boycotting the country was not the answer, but change needed to be encouraged and fought for.
Image: The Netherlands, Amsterdam, 24-7-2018. Pressconference Eastern Europe and Central Asia with Elton John Aids Foundation receiving a 1 million euro donation of The Netherlands. Photo: Rob Huibers for AIS. 
---