Emeli Sandé shares new track 'How Were We To Know'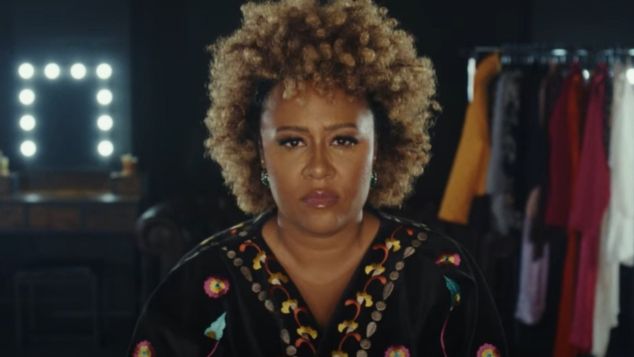 British singer Emeli Sandé has shared the title track to her forthcoming new album.
The track has been described as a "triumph, showcasing an artist at the very height of her powers".
Speaking about the new track Sandé says she wrote it at a very emotional time in her life.
"I wrote "How Were We To Know" at a time in my life where I was reconciling with myself after the end of a relationship that left me undone and re-evaluating my view on love and life. I was highly emotionally charged the day I wrote, and recorded it with Chris Loco and Phil Leigh and the lyrics and melody seemed to flow out effortlessly as the chords began to play.
"There will always be a period of anger, disappointment and blame at the end of a relationship but carrying those emotions can make life so much heavier than it needs to be. To fall in love takes bravery, vulnerability and completely letting go of logic.
"To me, love is a return to innocence which can often leave you naïve to the realities of life. Although the end can be brutal and leave you devastated, it's unfair to punish yourself for giving your all and trusting in love.
"I see this song as a plea for understanding and compassion for yourself and former relationships. In both life and love there is no way of knowing the ultimate outcome of any situation."
The official video for the song was directed by Tom Stoddart with Iona Magnus as creative director and producer, and Kedrick Wasley as director of photography.
Sandé describes the shoot as one of her favourites.
"This was one of my favourite videos to make, working with Tom, Iona and Kedrick was a fantastic experience! Working with them made it possible for me to express true emotion on the shoot. Their sensitivity and passion was so inspiring, they created an environment in which I felt safe to be vulnerable on camera.
"Singing a personal message down the camera lens allowed me to focus and channel all of my emotions into one place, and speak directly." Sandé said.
"We all shared a vision of the emotion we wanted to capture and the double-layered message we wanted to convey – The show must go on! A career within the music industry can be wonderfully creative and glamorous but it would be dangerous to forget it is an industry. It can present difficult days where you can feel lonely and must dig deep to find ways to continue. The simplicity of the performance to camera allowed me, within the chaos of the scene, to express the deep meaning of the lyrics in the song."
Take a look at the new clip. 

Fans have fallen for Emeli's immense talents over the course of a career that now surpasses a decade, with highlights including two UK #1 singles, which contribute to a total of eleven Top 10 hits, and phenomenal album success, led by the chart-topping, 8 x Platinum debut album Our Version of Events which became one of the best-selling albums of the decade, contributing to her career total of 25 million sales to date.
In 2022 the singer shared that she'd found her soulmate in pianist Yoana Karemova, posting snaps of her being hugged by her partner to social media.
OIP Staff
---

You can support our work by subscribing to our Patreon
or contributing to our GoFundMe campaign.