Emily Scott is the new CEO of Out for Australia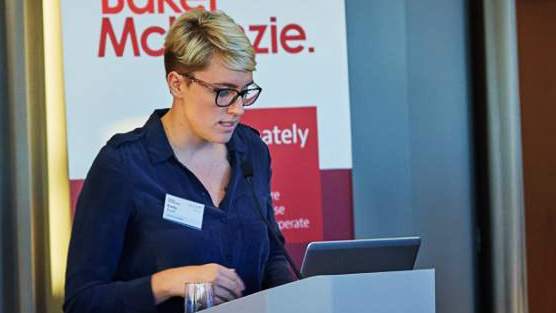 The Out for Australia board has announced that Emily Scott has been appointed as Out for Australia's new Chief Executive Officer. The organisation work to pair new graduates who identify as LGBTIQ+ with mentors in their chosen profession.
Scott will take on the CEO role while continuing to work at Nous Group, an award winning management consulting firm, who is supporting her to work flexibly. She takes over from Luke Furness who concluded his term on 30 June 2018 and will continue on the board.
"The organisation is in exceptional hands", Furness said. "I'm very confident that Emily will continue to strengthen Out for Australia's role in being a champion for LGBTIQ students."
Scott has first had experience of the organsiation's mentoring program, previously she was matched with Michelle Starr, an experienced management consultant and LGBTIQ women.
"I think having a mentor in the same industry that I could also identify with has been one of the key factors to my confidence and early career success as a management consultant at Nous Group," Scott said.
"I applied for the role of CEO at Out for Australia as I want to help every LGBTIQ Australian to experience what I have – an inclusive workplace, the support of a mentor, a strong connection to the LGBTIQ community, and the opportunity to be their true and authentic self. "
For the past year, Scott has served as Out for Australia's National Diversity and Inclusion Coordinator.
"As CEO, I will continue to have a strong focus on diversity and inclusion. At Out for Australia, this means recognising that different people within our LGBTIQ community face different challenges and addressing these through targeted events and diverse mentors." she said.
"It also means standing together as one, unified, inclusive LGBTIQ community, by educating ourselves on experiences different to our own, and opening doors for each other when we are in a position to do so."
"I look forward to working closely with our growing corporate partners, other community organisations and allies to achieve our vision."
Scott's immediate priority is ensuring Out for Australia's new mentoring platform Mentorloop is effective in matching mentees with suitable mentors and providing the necessary support for the relationship to succeed.
In accepting her role, Emily paid homage to outgoing CEO Luke Furness who has served as Out for Australia's CEO since February 2017.
"I have and continue to be inspired by Luke's passion for the LGBTIQ community. While the Out for Australia family will miss working with him day to day, we know that his contribution to the betterment of our community is only just starting."
Source: Media Release
---