Empire of the Sun: Double Trouble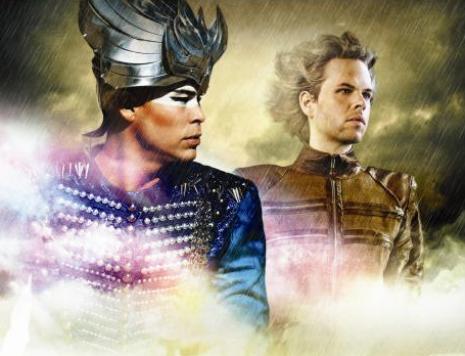 Looking back over the last five years, the man who is one half of both Empire of the Sun and PNAU struggled to summarise what was most certainly a period of extreme highs and lows.
Nick Littlemore generated confusion and despair amongst fans when he unexpectedly walked away from Empire of the Sun in 2009, leaving his musical partner Luke Steele to tour alone. The ever-popular artist has since reconnected with Steele and released their latest single 'Alive'.  In between the break up and the reconnection, Littlemore has worked with the likes of Elton John, proposed to him long term girlfriend, lived in New York creating more music with PNAU and much more.
"It really started I think around meeting Elton, everything kind of went into a parallel reality and it's kind of made sense which is bizarre because things don't happen the way you want them to. We have been extremely lucky and have met some really wonderful people", he explained.
Reflecting on the reconnection, Littlemore explained how back in 2009 he just followed his instincts in walking away from the duo. Now back together and working on another album, he emphasised they were stronger than ever.
"We got together about 18 months ago in New York City and went to a studio in Chelsea, it's such a bizarre way to re-enter life together, I hadn't seen him for a couple of years and we just went straight into making music, music is everything to us, it's how we understand what we're doing and how we connect and it took a while to really get back into synch because I think we've both got a lot of wild ideas", he explained.
"With any partnership there are always strains but we want to rise above them and when we write music it's so potent, we really connect and we collide in colour, we don't want to let go of that".
Juggling work between PNAU and EOTS, Littlemore answered questions surrounding where he thinks he'll be in five years with both ventures.
"Empire just feels like it's getting larger and larger and I think we're trying to respond to that now that we're up and running, we want to keep it coming.
"PNAU is interesting… its changing we think. We just did the record with Elton and now we're collaborating with Ladyhawke", he said.
"In five years time I hope to be back in New York, hopefully I'll have a good thing happening in California. I've never said this before but I'd probably expect to be a father by then".
As for future collaborations, Littlemore admitted he'd love to work with Celia Pavey from 'The Voice'.
Empire of the Sun will be releasing their second album 'Ice on the Dune' this month.
Nadine Walker