Eucalyptic visions with Melbourne duo Client Liaison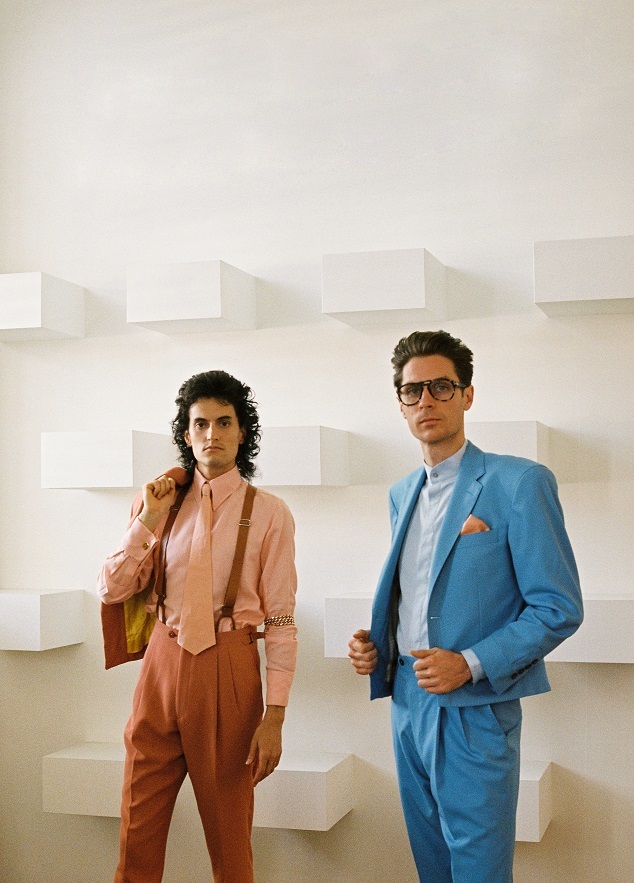 Melbourne's sleekest pop duo Client Liaison are preparing to release their debut LP, Diplomatic Immunity this November. The pair have already seen great success with their first self titled EP and are expanding their brand – creating a peachy keen clothing range and even delving into the realm of limousine hire. Monte Morgan and Harvey Miller AO gave OUTinPerth a yell to talk about their business plans and love for this country.
Your music and image is loaded with Aussie iconography – what draws you to celebrate your 'Australian-ness'?
"We made a decision with our first release End of the Earth in 2012 and it's been a running theme. We're just interested in where we live, I guess! It seems natural to us. There's so much to explore in this country and there's this idea that no one explores Australia. There's this awkward, psychedelic place that we live in and all of its permutations."
Speaking of Aussie icons, we noticed your new album features Tina Arena!
"Working with her was fantastical. She's our queen. She's our hero. She is very talented. We approached her and she was more than happy to jump on board. Something should be said about her willingness to work with new Australian artists and the fact that she is very active in the current scene still.
Have you guys been on any exploratory journeys of the outback for inspiration?
"We're constantly traveling around the country to tour. Often we spend a lot of time in airports and Airbnb's but over the last few years we've seen a heap of new places. I think to me there's two Australia's. There's the urban Australia and the rural Australia. That's a concept we try to get at in the song Where Do We Belong. It references those Eucalyptic visions of Australia today where the sun upon the city heats reflections on the bay. Talking about the city attitude of Australia which is often ignored. I feel like you forget you're in Australia when you're in the city, it's only when you go into the countryside that you realise."
You're quite the entrepreneurial duo – what else are you working on?
"We bought a limousine the other week! We're going into a limousine business and we used it in one of our music videos. We're working on our live show, and we've got a designer range coming out – it's kind of high fashion. It's called Client Liaison Designer Line. We have a pop-up store in Melbourne and one in Sydney and it will be online as well. We designed all of the blocks and fabrics, prints and textures with our stylist. We actually started last year, so it's taken us that long to get here. It's a summer collection: peach and teal! We've got T-shirts, shorts, rashees, legionnaires caps, bumbags, sunglasses – that kind of thing. It's unisex and hopefully accessible to everyone."
Client Liaison's debut LP, Diplomatic Immunity is out from Friday November 4th.
You can also catch the boys at the upcoming Falls Festival in Fremantle, January 7th & 8th 2017. Tickets available from fallsfestival.com