Eurovision Picks a Winner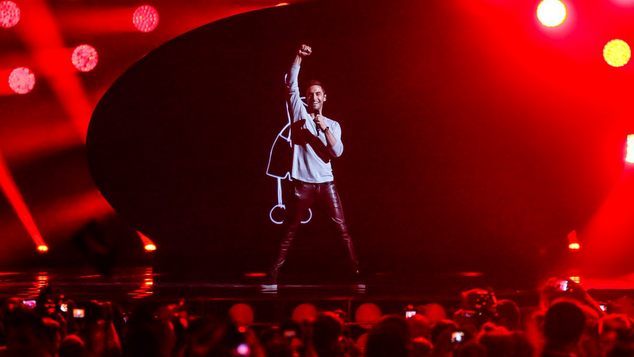 SPOILERS BELOW
Eurovision 2015 has picked it's winner with a nail biting conclusion.
Italy, Sweden and Russia were popular performers. As the votes came in from 40 different countries the leaderboard changed reguarly with each having their moments in the top spot.
The favourite to win, Sweden was successful with Måns Zelmerlöw's 'Heroes' being named the winner.
The uplifting song was performed alongside a captivating video display which required the singer to stick to perfect choreography timed to the second.
Zelmerlöw accepted the winner's trophy embracing the previous winner Austrian drag star Conchita Wurst.
"I'm so happy and I want to say thank you for voting for me." Zelmerlöw said the the crowd.
"I want to say we are all heroes, no matter who we love, who we are or what we believe in – we are all heroes."
The reference to all love being equal stood out given the controversy Zelmerlöw faced at the beginning of his Eurovision campaign when remarks he'd made several years ago were highlighted as being homophobic.
Zelmerlöw's career took off when he participated in the first series of the Swedish version of 'Idol' in 2005, where he came fifth. He had previously appeared in a supporting role in the musical 'Jospeh and his Technicolour Dreamcoat'. He went on to win reality TV show 'Let's Dance' and has hosted TV programs, played the lead in 'Grease' and released several records.
The winning song 'Heroes' was written by Anton Malmberg Hård af Segerstad, Joy Neil Mitro Deb and Linnea Deb.
Tonight's win marks the sixth time Sweden has won the competiton, their most recent win was just three years ago when Loreen took home the trophy with 'Euphphoria' – which was one of the highest selling Eurovision songs in decades.
Sweden have also won with Charlotte Nilsson's 'Take Me To Your Heaven' in 1999, Carola's 'Fångad av en stormvind' in 1991, Herrey's 'Diggi-Loo Diggi-Ley' in 1984, and ABBA took out the top spot in 1974 with 'Waterloo'.
The final results saw Sweden accumulate 365 votes, Russia was the runner up with 303 votes and Italy came in third with 292. Belgium and took out fourth place, and Australia's own Guy Sebastian placed fifth.
Australia was invited to participate in the contest as a once off special event to celebrate the competitons 60th anniversary. Australia's votes were announced by SBS news presenter Lee Lin Chin.
Chin wasn't the only recognisable face annoucing votes. Ireland's votes were announced by Westlife member Nicky Byrne, while Britian's were delivered by Nigella Lawson who showed off her linguistic skills by speaking in English, French and German.
At the other end of the scoreboard,  Germany and host nation Austria scored no points at all, while France only attracted 4 points and the United Kingdom was only awarded 5 points.
image 1: Elena Volotova (EBU), image from eralier performance.