Explosion at Ariana Grande concert in Manchester kills 19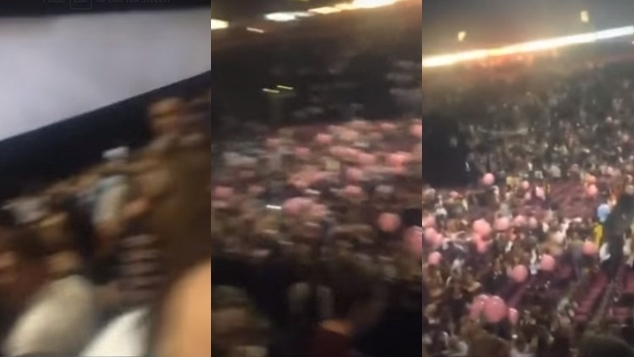 Nineteen people have been killed and fifty injured following an explosion in Manchester, England.
The incident occurred at an Ariana Grande concert as people were preparing to leave the venue. Witnesses reportedly heard two loud bands at about 10:35pm Monday evening.
Police are treating the incident as a terrorist incident until they know otherwise.
The explosion occurred in the foyer area of Manchester Arena as thousands of people were leaving the venue.
Police later conducted a controlled explosion when another suspect package was located in the vicinity but it turned out to be abandoned clothing.
News agency Reuters is reporting that the explosion was the act of a suicide bomber. The news agency cited unnamed US officials as the source of their information, but it has not been confirmed by British authorities.
Manchester Arena can accommodate up to 21,000 people, it not known how many people were at last night's concert.
Victoria Station, which is underneath the arena, has been closed and all rail services have been diverted.
Ariana Grande's management have confirmed that she was not injured in the incident that occurred outside the auditorium.
A few hours after the incident the singer posted a message to Twitter saying "Broken. From the bottom of my heart, I am so so sorry. I don't have words."
Manchester's Mayor Andy Burnham said It was a terrible night for the city, and praised emergency services for their quick response.
The Mayor of Orlando, Buddy Dyer, who faced the terrorism attack in Orlando almost a year ago said he was saddened to hear of the incident, and the people of Orlando stood in solidarity with those in the United Kingdom.
Prime Minister Theresa May has said her thoughts are with the victims and families of those affected in "what is being treated by the police as an appalling terrorist attack".
Entertainers have responded to the incident on Twitter.
One Direction's Harry Styles said he was broken-hearted over what had happened, while band mate Niall Horan described the incident as "horrendous".
Singer Lorde described the incident as every musicians "worst nightmare", saying that shows should be safe spaces.
Actor Adrien Brody said it was "despicable" to target young women and children listening to music.
This is a live story and is being continually updated, hit refresh for the latest update.