Federal government funding commitment to LGBTIQA+ health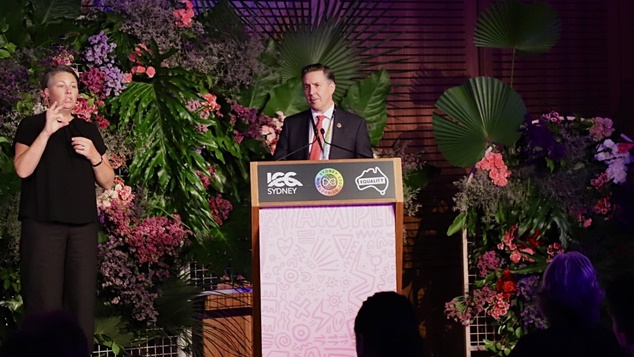 Health Minister Mark Butler has announced a 10-year commitment to LGBTIQA+ health at the World Pride Human Rights Conference.
Butler was joined by assistant health minister Ged Kearney to announce the $26 million investment in LGBTQI health research – the biggest investment in LGBTQI Health which the politicians hope will "close the gap".
The consultation process for the 10-year-plan will be coordinated by the assistant minister, in conjunction with the Australian Federation of AIDS Organisations (AFAO) and LGBTIQ Health Australia.
"There's a very clear recognition in the Albanese Government, across all portfolios, and from the Prime Minister down. But there is so much more work we need to do as a country to close the gap in health, and particularly mental health outcomes, for LGBTIQA+ Australians." Butler said at a media conference.
"The Albanese Labor Government really believes in equality of health care – that's equity of access for everybody." Kearney said. "We know that our LGBTIQA community faces many barriers to access to care, they face really some particular challenges. They still, believe it or not, face bias and discrimination, they face harassment, sadly, they even face violence here in Australia."
Nicky Bath the CEO of LGBTIQA+ Health Australia welcomed the research funding announcement and development of a comprehensive plan.
"This is a momentous occasion for us. It's a momentous occasion for Australia." Bath said.
"What we're seeing for the first time is national leadership on our health and wellbeing when we're working towards drawing an end to the health disparities that our communities experience day in, day out.
"In many areas of our health we are in crisis, it is beyond urgent. And what we've had announced today with a 10-year action plan, and the advisory group and investment in $26 million is nothing other than astounding." Bath said.
The Australian Federation of AIDS Organisation has also strongly endorsed the new plan. Highlighting that despite strong progress in treating and preventing HIV transmission, which has declined 37% in the six years to 2022, Australia faces enduring challenges with LGBTIQA+ health.
They also note that more than one-in-four young LGBTQA+ people have attempted suicide  at some point in their lives, while more than six-in-ten have sought counselling or other support.
Research shows almost two-thirds (64%) of LGBTQ respondents avoid seeing a GP when they need to because they are not confident that they will understand their life and health needs (33%), fear judgement (32%), poor past experience (28%), and lack of trust (27%).
AFAO CEO, Darryl O'Donnell said LGBTIQA+ people still face shocking outcomes in the health system.
"More than one-in-four young LGBTQA+ people have attempted suicide at some point in their lives, while more than six-in-ten have sought counselling or other support.
"Stigma and discrimination are enormous hurdles standing in the way of LGTIQA+ people seeking and receiving the healthcare they need.
"With such shocking disparities in health outcomes, it's clear that primary health care is not working for LGBTIQA+ people. We need to better understand why and how to fix that.
"This investment promises to be a game changer. It will transform our understanding of LGBTIQA+ health and properly inform the scope, scale and character of health services needed to arrest the health crisis facing our communities.
"AFAO strongly endorses Minister Kearney's commitment to give more LGBTIQA+ Australians the support they need to lead their best lives.
"Over coming months, AFAO will be consulting with LGBTIQA+ people across Australia to understand their needs and preferences for health care." O'Donnel said.
"There is incredible diversity across LGBTIQA+ communities, all of which must be understood if we're to create more responsive primary health care services.
"From our consultations, we will be advising the Government on the changes needed to provide better primary health care for LGTBIQA+ Australians.
"We're delighted the Government is committing to a new national plan to address health disparities for LGBTIQA+ communities, and look forward to partnering in its development and delivery."
Morgan Carpenter from Intersex Human Rights Australia also spoke positively about the announcement.
"I'm really delighted by the announcements today by Assistant Minister Kearney and I think they provide a really clear opportunity to address the disparities affecting each of our populations, the very distinct health needs of each of our populations."
Carpenter highlighted that the health needs of people who are intersex are distinctly different to other groups within the wider LGBTIQA+ communities.
"Our population is incredibly diverse with at least 40 different innate variations, sometimes called intersex variations or DSDs. And our population is in some ways quite distinct from other LGBTI populations in intersex traits are innate biological characteristics. And our population is quite different, and the issues affecting our population begin, not even at birth actually, conception and the prenatal diagnosis."
Anna Brown from Equality Australia was also positive about the new funding commitment.
"Quite simply, this plan, and this funding will save lives. We know that there are significant and really quite outrageous health disparities faced by our communities, both in mental health and in general health. And this national plan, and the funding research will drive the change that's needed to address these disparities and make sure that everyone in our communities can live safe and happy lives." Brown said.
Joe Ball, CEO of Switchboard Victoria, who operate the Q-Life helpline, said the commitment from the government showed "real leadership".
"We're not going to turn around those poor mental health and suicide statistics tomorrow, but we have got a plan here, and we've got funding behind a plan to work together and finally start to address an issue." Ball said.
Dr Clara Tuck Meng Soo from transgender health organisation AusPATH said there was clear evidence that a lot of work needed to be done across the health sector to ensure that people who are transgender received informed and appropriate care.
"Within the medical helping professions, we still have major barriers to accessing care. We serve lots of lots of doctors and nurses and mental health workers who don't actually have the knowledge and work in this area." Dr Soo said, stressing that a lot of professional development and training was needed.
OIP Staff
---
Do you need some support?
If you are struggling with anxiety or depression, support and counselling are available from:
QLife: 1800 184 527 / qlife.org.au (Webchat 3pm – midnight)
QLife are a counselling and referral service for LGBTQIA+ people.
DISCHARGED: [email protected] / discharged.org.au
Discharged is a trans-led support service with peer support groups for trans and gender diverse folks.
Lifeline: 13 11 14 / lifeline.org.au
Beyondblue: 1300 22 4636 / www.beyondblue.org.au
---

You can support our work by subscribing to our Patreon
or contributing to our GoFundMe campaign.