Feinstein & Fox are 'Shaken and Stirred' on their east coast tour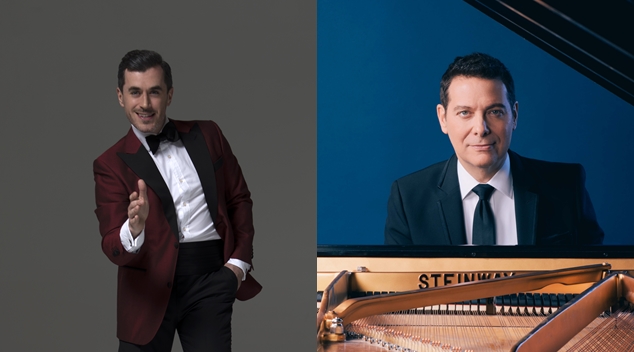 Five-time Grammy Award-nominated and two-time Emmy-nominated American performer Michael Feinstein will tour Australia in November together with special guest, Australian musical theatre star, Bobby Fox and their awesome band, re-imagining classic songs from The Great American Songbook. The tour will play dates in Brisbane and Melbourne before a final show at the Sydney Opera House.
Michael Feinstein has built a dazzling career over the last three decades, bringing the music of The Great American Songbook to the world. From recordings that have earned him five Grammy Award nominations to his Emmy-nominated PBS-TV specials, his acclaimed NPR series to concerts spanning the globe – including appearances at The White House, Buckingham Palace, Hollywood Bowl and Carnegie Hall – plus his work as an educator and archivist, Feinstein has cemented himself as one of the most important musical forces of our time.
Due out in early 2020, Feinstein's upcoming album, Gershwin Country, features country music superstars Dolly Parton, Brad Paisley, Vince Gill, Amy Grant, Leanne Womack, Lyle Lovett, Rosanna Cash, Ronnie Milsap and the incomparable Liza Minnelli performing the great Gershwin classics with Michael. Each song is carefully crafted with a Nashville-based band to feature a country vibe while staying true to the tunes that so are easily identified as part of The Great American Songbook and can only be Gershwin.
Bobby Fox is an Irish-born Australian actor, singer and dancer who originated the role of Frankie Valli in the Australian production of Jersey Boys. He is a four-time World Irish Dance Champion and has starred in many major musical theatre productions over the last two decades.
Bobby most recently debuted his new show The Irish Boy to sell out shows at the Sydney Opera House and The Adelaide Cabaret Festival in June 2019.
Sydney Opera House, Head of Contemporary Performance Olivia Ansell says: "There's no-one else like Michael Feinstein. Artist, conductor, arranger, night club owner and philanthropist…a musical tour de force dedicated to The Great American Songbook. Late night haunts Feinstein's/54 Below and Feinstein's At The Nikko have discovered some of the world's finest jazz musicians and Broadway's biggest stars. Sydney Opera House are thrilled to partner with TEG Dainty to present this special Concert Hall event, with the ever-charismatic Bobby Fox – one of Australia's brightest lights."
Feinstein & Fox will be playing in Brisbane, Melbourne and Sydney this November. For tickets and more information head to tegdainty.com
Source:- Media release
---