Film Reviews
Directed by Pedro Almodóvar
This outrageously camp comedy from legendary Spanish director Pedro Almodóvar takes place on a plane circling the city of Toledo, trying to make an emergency landing. The action happens in the cockpit, the galley and business class section because the people in the cheap seats have been given a 'muscle relaxant'. Waiting for the emergency landing, the business class passengers and the crew are fortifying themselves with alcohol … and the on-board antics become more and more raunchy. The crew's entertainment to the Pointer Sister's hit song is only the beginning. Monologues and telephone conversations reveal that everyone is hiding something and there are only two degrees of separation. Only chief flight attendant (Javier Cámara) has a compulsive need to always tell the truth, making him a danger to everyone else.
Join Us To See This New Film
OUTinPerth and Connections Nightclub presents the Perth gala premiere of Almodovar's 'I'm So Excited'.

Legendary Spanish director Pedro Almodóvar ('All About My Mother', 'Volver', 'Talk To Her') is back with a kitsch, camp and outrageously funny comedy set mostly on a plane, featuring the Pointer Sister's hit song and sky-high choreography!
On Thursday September 19, 'I'm So Excited', the new flamboyant Almodóvar comedy will premiere at Cinema Paradiso with a pre-movie gala function with complimentary refreshments, featuring a show by Connections performers.  Your ticket includes entry to the Connections after-party with cocktail on arrival. Dress code:  Sky High
Directed by Woody Allen
Life is complicated and Woody Allen's women are always very complex. Cate Blanchett takes centre stage as elegant New York socialite Jasmine (who was born Jeanette), living the good life with wealthy husband Hal (Alec Baldwin). When Hal's business dealings turn out to be less than pristine, Jasmine is left destitute and moves to San Francisco to live with her sister Ginger (Sally Hawkins) in her working class apartment. Plunging from elite privilege to having to work in a menial job does not suit Jasmine but, sustained by Xanex and vodka, she does try to rebuild her life. Blanchett is exceptional – her incarnation as the narcissistic socialite is juxtaposed with her portrayal of a manic, broken woman being chased by ghosts of her past. As the song 'Blue Moon' echoes in the background, Woody Allen serves us a martini of ironic tragedy and tragic irony, with a twist of lemon.
Directed by Giuseppe Tornatore
Virgil Oldman (Geoffrey Rush) is a solitary, cultured man who is reluctant to engage with others, especially women. He has made a fortune as a high-end antiques dealer and art auctioneer who can detect whether a painting is fake or an authentic masterpiece. When a reclusive young heiress, Claire (Sylvia Hoeks), asks him to handle the valuation and sale of her priceless heirlooms, a relationship develops that will change his lifeforever. Each time he visits Claire's house, Virgil comes across some old cogs and wheels. He takes them to fix-it man Robert (Jim Sturgess) who assembles an automaton and gives Virgil advice about Claire. As the new pieces are added to the automaton, Virgil becomes more human. Writer/director Giuseppe Tornatore is best known for his classic 'Cinema Paradiso' and this maestro of suspense has created a dramatic mystery with no murders, no dead people, no police and no investigators.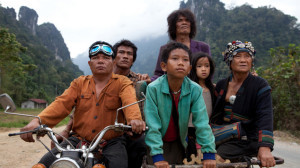 The Rocket (M)
Directed by Kim Mordaunt
As a surviving twin, ten year old Ahlo (Sitthiphon Disamoe who had been living on the streets of Bangkok for 2 years since being deserted by his family) lives with the shadow an ancient curse. When progress catches up with his family, and decides to flood their village, they must trek through the war-scarred landscape of Northern Laos in search of a place to live. They meet up with some unforgettable characters, including the wise eight year-old Kia (Loungnam Kaosainam) and her mad uncle Purple (Thep Phongam) who has a passion for James Brown. Ahlo is desperate to prove he's not cursed and Uncle Purple helps his build a rocket, even though the competition is only open to adults. Ahlo, like most of the population of this small country, seems to have the odds stacked against him but his resilience comes to the fore in the dangerous amateur pyrotechnics competition.
Lezly Herbert