Find your doubles partner at Famous Sharron's Love Match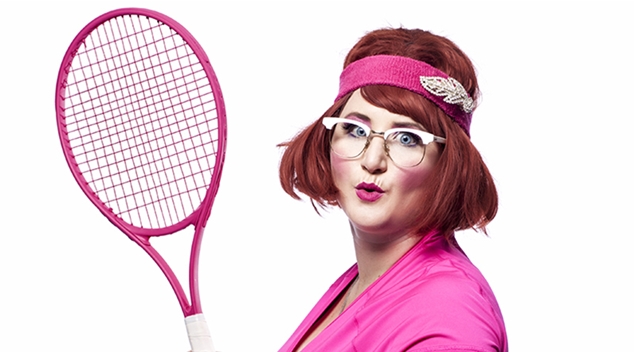 WA's most famous… famous person is set to make a racket at this month's Perth Comedy Festival.
Rejuvenated after becoming even more famous at Fringe World, Famous Sharron is serving up some hot balls of love with her latest show, Love Match.
We were penciled in to Sharron's fit-to-burst schedule for a quick chat about her love life, monstrous fame and still being Shazza from the Block.
"As you know this is my third marriage now, there's been a couple of bumps along the way… but everyone in the room will find love. That's my guarantee," Sharron says of the show.
Having experienced two previous, and very public, break ups, I had to ask Sharron what she thought made her an expert on all things amorous. She told me to Google her husband.
"Darren is too perfect, it's very frustrating. You know, someone that keeps the house clean. He's a real stay-at-home dad… or as I like to call him; 'Dad'. He looks after the kids, that's why Sirri, our youngest isn't on the Internet."
"She's desperate to be famous! She's just like me, she's a little shit. She can't be on the Internet because Darren won't have it. The twins don't want to have anything to do with me because they're 10-year-old boys, and Charrdonnay is just so shy… If we could just have a family situation happening, I could start a reality TV show already."
As Sharron threatens to hold a casting call for new family members, I redirect the conversation to Love Match and conquering the east coast with her Sydney show.
"Well I think they'll just be more up themselves won't they?!" Sharron laughs.
"We have different celebrities on stage each night and every state has a few washed up reality stars that are waiting for their second coming… Courtney Murphy, god bless him, he can't get enough of my show!"
Sharron insists Sydney is just a stopover before her big break in Hollywood, simultaneously denying rumours she will be taking her fame out of WA.
"I'm never leaving here! I may be famous in Hollywood, but I'll still be famous in Morley Galleria as well…. If anything I'll be more famous in Morley Galleria!"
Swipe right to Famous Sharron's Love Match at Hellenic Club of WA from Fri 27th – Sun 29th April for Perth Comedy Festival. Tickets and more information available from perthcomedyfestival.com
Leigh Andrew Hill