More flyers opposing Safe Schools hit Perth mailboxes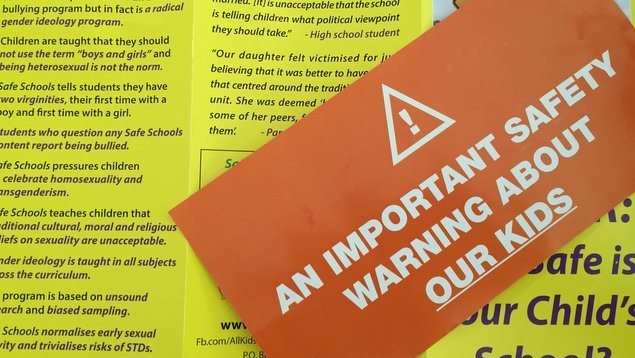 Perth homes have been hit by multiple interest groups arguing against the Safe Schools coalition program in the final days before the state election.
OUTinPerth readers have reported receiving flyers published by the Australian Christian Lobby and activist group All Kids Matter.
Now a third flyer produced by the National President of the Democratic Labor Party has hit mailboxes, claiming to be a safety warning for children. 
'Safety Warning' flyer said school children were in danger from the program. Using almost identical phrases to the All Kids Matter flyer, it also claimed the program was taught to four years old children.
Following a review ordered by the Turnbull government in 2016, which was conducted by UWA Professor Bill Louden, the program is only accessible in high school.
The safety flyer was authorised by Rosemary Lorrimar, the National President of the Democratic Labour Party. The party is only registered in Victoria, after being de-registered by the Australian Electoral Commission in 2015. The flyer was released under Lorrimar's name.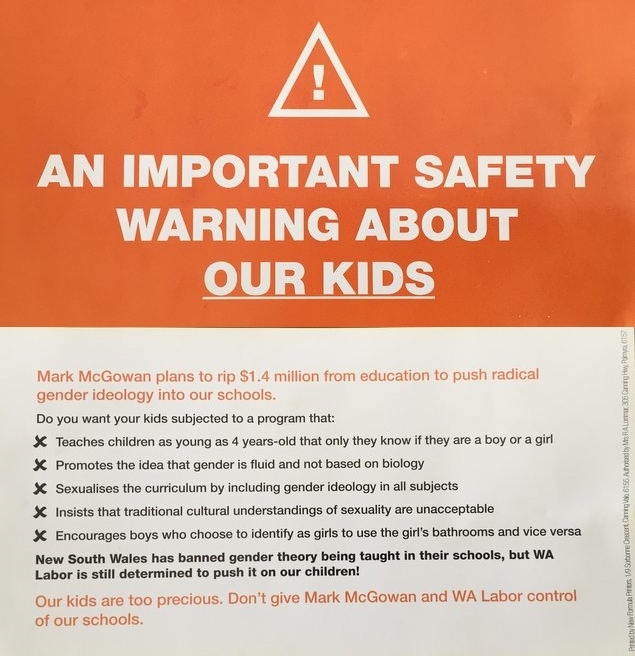 Speaking to OUTinPerth Lorrimar said people were naive if they thought the program would not be rolled out to younger children.
Lorrimar said she believed that sex education had no place in schools and it was the role of parents and health professionals. Lorrimar said most teenagers have periods of feeling ambivalent about their sexuality, but for most it is only a phase.
The activist said the Safe Schools program was not an anti-bullying program; "It's part of a campaign by the gay and lesbian la-di-da's to push their agenda." she said.
The activist said she believed most people in the gay and lesbian community did not support marriage equality or the Safe Schools program.
"There are radical elements within that community that always want to push that boundary," Lorrimar said.   
---
---
When the first round of flyers was received, The Greens spokesperson for sexuality and gender identity Lynn MacLaren MLC said there was a great deal of misinformation being spread about the program.
"There are so many lies being told about the Safe Schools program – it really does our children a disservice. It's time that the lies and misinformation stopped.
"We know LGBTIQA+ young people between the ages of 16 and 27 are five times more likely than the rest of the population to suicide – 16% have attempted suicide. This compares to 1.1% of the general population. Those who have experienced abuse or harassment because of their sexuality are even more likely to attempt suicide.
MacLaren said the program was an important one that should be supported.
Graeme Watson