For the first time Queer Screen will open with an Australian film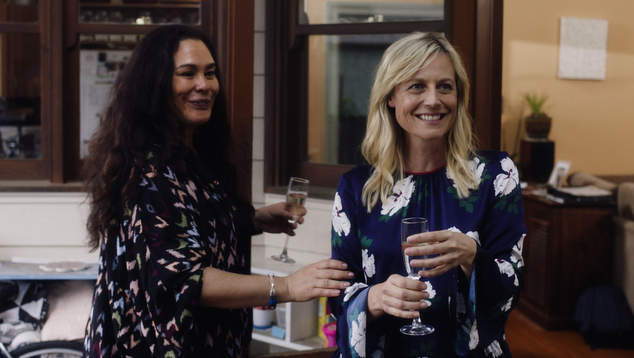 Queer Screen's 27th Mardi Gras Film Festival will open with an Australian feature for the first time in its history with the World Premiere of Ellie and Abbie (and Ellie's Dead Aunt). 
Shot entirely in Sydney, the film is adapted from a play by writer-director Monica Zanetti (Sisters, Skin Deep) and features an all-star ensemble cast including Marta Dusseldorp (A Place to Call Home, Janet King), Rachel House (Thor: Ragnarok, Hunt for the Wilderpeople) and Julia Billington (Starting from…Now, Mr Inbetween) with Sophie Hawkshaw (Love Child) and Zoe Terakes (Wentworth) as the star-crossed lovers Ellie and Abbie.
Ellie and Abbie (And Ellie's Dead Aunt) is described as an endearing and heartfelt romantic comedy that appeals cross generationally to audiences of all ages.
When school captain Ellie falls for her rebellious classmate Abbie, teenage awkwardness and angst get in the way of her plan to ask Abbie to the year 12 formal.
When Ellie's aunt Tara, a lesbian activist who tragically died in the 1980s, turns up to 'help', Ellie starts to second guess the elaborate plan — and question the circumstances of Tara's death.
Queer Screen Festival Director Lisa Rose said she was delighted to have the film opening the 2020 festival.
"We're thrilled to be opening the festival with a locally made feature for the first time," says Queer Screen Festival Director Lisa Rose. "Queer Screen has a rich history of showcasing Australian work and to have a film that pays homage to Sydney's LGBTIQ+ activist history — as well as bring us a fresh take on the universal 'first love' story — meant it was a perfect choice".
Director Monica Zanetti said the film festival which runs during Sydney's Gay and Lesbian Mardi Gras celebrations was the perfect place to launch the romantic comedy film.
"'Ellie & Abbie' has been an absolute labor of love from the time it was a play in 2017, through to the crowdfunding of the feature and now the finished film. It's a project that has been brought to life by passionate, generous and hardworking people. I'm so proud of our team and in awe of our amazing cast," Zanetti said.
Actor Marta Dusseldorp said Zanetti was an exciting new voice in Australian theatre and film.
"When a brilliant young writer/director such as Monica asks you to be a part of a playful and life affirming film, you say 'Yes please'. This is a new voice exploring and celebrating her life, our lives … as Australians and human beings. I loved every minute on this film. I hope everyone can share in our joy which is 'Ellie and Abbie'."
The Festival opens on 13 February at Event Cinemas George Street, with cast and crew in the house on opening night and taking questions after the screening.
MGFF20 continues across multiple venues in Sydney until 27 February before touring to Canberra, Parramatta, Lismore, Newcastle and the Blue Mountains in March. The full program is announced on 8 January.
Source: Media Release
---