Former PM John Howard says Turnbull should hold the plebiscite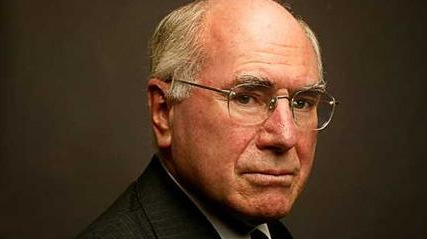 Former Prime Minister John Howard says he is sympathetic to the views of the man who threw a pie in the face of QANTAS boss Alan Joyce.
Howard suggests Malcolm Turnbull should honour his promise to hold a plebiscite on marriage equality.
Speaking at a forum earlier this week Howard said the man who waited behind a stage for two hours before planting a lemon meringue pie in the face of QANTAS boss Alan Joyce should be dealt with according to the law, but he was sympathetic to his view.
Howard said he questioned if business leaders had the right to voice views that might not represent all of their shareholders and staff members.
The former PM said he was concerned about gay rights activists targeting people like Mark Allaby, who was reportedly forced to resign his position at pwc because of his association with the Australian Christian Lobby.
Howard said people who opposed marriage equality were the ones who were being harassed.
"What is also appalling is the fact that people who have a different view to Alan Joyce are harassed – you have activists ringing hotels saying they are going to be boycotted, staff are abused, vilified because they are accommodating a meeting that is going to have an alternative point of view." Howard said.
During his time as Prime Minister Howard changed Australian's marriage act to limit marriage to only between a man and a woman. The changes included a statement being read at every wedding spelling out the exclusion of gay, lesbian and transgender people.
The former PM said current leader Malcolm Turnbull should remain committed to his plan to hold a plebiscite on the issue. Howard said he would vote against the proposal and questioned if Australians would support a change to the marriage laws.
Polls on the issue have consistently showed support for allowing LGBTIQ+ couples the right to wed.