Former Premier Criticised for Endorsing Transphobic Cartoon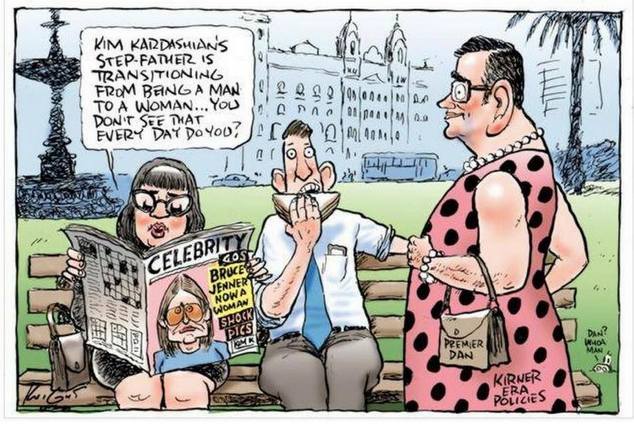 A cartoon published by the Herald Sun newspaper in Victoria has been labeled transphobic by commentators on social media.
The cartoon by Mark Knight shows a woman and a man sitting on a park bench. The woman is reading a newspaper called 'Celebrity' which depicts Bruce Jenner on the cover.
The woman says "Kim Kardashian's step-father is transitioning from being a man to a woman… you don't see that everyday do you?"
Standing next to the couple Victorian Premier Daniel Andrews appears wearing a dress and a pearl necklace, he holds a hand bag. A note on his dress reads "Kirner Era Policies".
Joan Kirner was the Labor Premier of Victoria from 1990 – 1992. During her time in power cartoonists often depicted her in a polka dot dress despite her never wearing one.
The cartoon was shared on Facebook  by former Victorian Premier Denis Napthine who described it as "magnificent".
Within a few hours of posting the cartoon Dr Napthine had received close to 200 comments with many followers highlighting the high suicide rate of transgender youth.
Other followers commented that the cartoon was satirical and we should respect and support the cartoonists free speech.
The Herald Sun and Dr Napthine were contacted for comment. 
OIP Staff