Review | Frankie's: A pop-up bar that would make a killer sitcom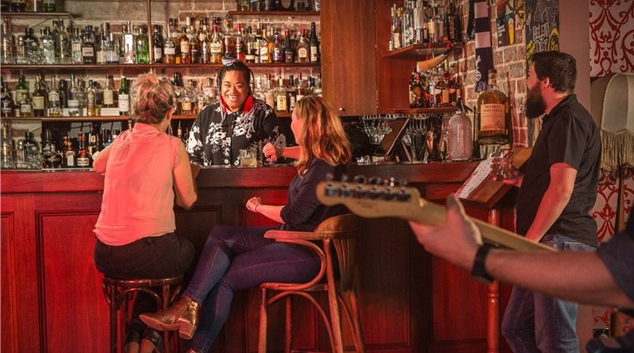 Frankie's | The Blue Room| til 1st Dec | ★ ★ ★ ★  
You know you're in for a good night when greeted at the theatre door with a sample of Perth crafted whisky!
You read it right! Whipper Snapper is our city's first urban distillery and proud sponsor of the only Performance Pop Up bar I've ever heard of. Not that Frankie's market themselves that way but let's break it down: A bar that isn't permanent, check! The bar is the set, check! You can buy drinks from the actors during performance, check! I challenge you to defy my logic.
The brain child of director Libby Klysz, Frankie's is an utterly original concept that sees us witness the wacky shenanigans of unscripted chaos unfold before our very eyes in a fifteen-part serial where every night is the continuation of the previous night's unpredictability.
The ensemble of characters stays the same but WHEN they pop into the bar is anyone's guess. Each evening's performance features a different dynamic of Frankie's "regulars" connecting over a few glasses while resident crooner Alwyn Nixon-Lloyd occasionally belts out improvised jazz lyrics that'll leave you chuckling.
Blue Room Theatre is the perfect cosy setting to make you feel like any other patron of this downtrodden bar of misfits. The space practically begs for audience interaction and what actor wouldn't take advantage of that! Certainly not this group. With active encouragement from the "bartenders" to buy their drinks, who are we to turn down a good thing?
There's no doubt that the team behind Frankie's are a talented bunch who handball offerings to each other like pro football players keeping the game going for an impressive hour of hilarity. It's hard not to laugh out loud but oh so much harder for the actors themselves with some straight faces itching as they hit comedy gold.
The cast fearlessly throw themselves into zany scenarios revolving around the episode name based purely off audience suggestion. So you get an idea, past episodes include "Don't Be A Dick", "Do Everything to Excess" and "Always Carry A Pen On You". This show about nothing seriously gives Seinfeld a run!
Don't worry if you can only come down for one night, like every good serial there's an episode recap in the form of a masterful comic strip that'll get you up to speed – make sure to check it out before the show starts. If last night's antics are anything to go by, Frankie's bar-goers are in for an interesting 3 weeks.
Frankie's will be at The Blue Room Theatre until Saturday 1st December. Tickets and more information available from blueroom.org.au
Evelyne Tymms
Image:- Simon Pynt