Gasp! Is a Breath of Fresh Air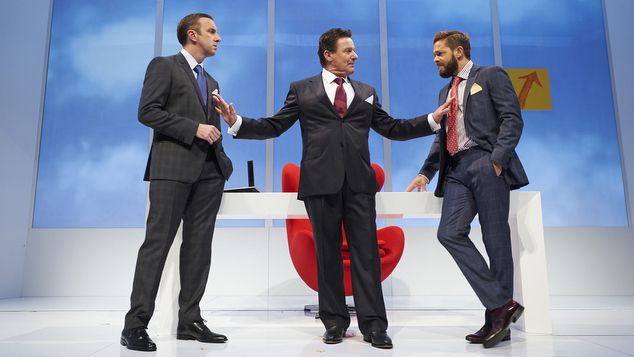 Ben Elton's 'Gasp!', currently playing at the State Theatre Centre, was first performed in the UK in 1990 under the title 'Gasping'. However, given the play's striking relevance to Western Australia, it's difficult to imagine it had ever been performed anywhere else.
Our hero is Phil, a hapless businessman eager to prove his worth in the boardroom and to his nasally-congested love interest, Peggy. He gets his chance when his boss, Chifley Lockhart decides he needs a new source of income having mined Australia for all it's worth. Struck with inspiration, Phil suggests an untapped natural resource: the air we breathe.
Ben Elton's first play had undergone a considerable rewrite to be relocated to its new Western Australian setting, and it shows. Elton seems keen to prove his knowledge of his adopted home, with references aplenty to Gina Rineheart, Clive Palmer and Miranda Kerr. However, it's in his humorous predictions for the future of mining and the consequences of the today's boom that Elton truly earns his credibility.
'Gasp!' is a true to form example of an Elton work. There's more metaphors and similes flying around the room than you'd find at a teenage poetry recital and dialogue quicker than a Kardashian marriage. If you're not on board for gags coming at you thicker and faster than the boys on the set of a Sean Cody film then this isn't the show for you. It's bawdy, verbose and shamelessly unafraid of wordplay.
Damon Lockwood flexes his comedy muscles as the ambitious and ethically conflicted Phil, using a combination of snappy timing and cartoonish facial expressions. He works well under the pressure of taking on a role previously inhabited by Hugh Laurie. Caroline Brazier holds her own as the formidable Kirsten, licentious marketing queen. Greg McNeil's Chifley Lockhart bears an eery resemblance to Andrew Forrest. Lucy Goleby is amiable as Peggy the snotty love interest and Steven Rook is suitably pretentious as business rival Sandy. The cast rise to the task of Elton's rapidfire dialogue with aplomb.
Anyone who's read Elton's novels (in particular 'Blind Faith', 'Gridlock' and 'Dead Famous') will be familiar with his tendency to take the piss out of a current phenomenon by taking it into a dystopic future and pushing it to merciless extremes. For those who enjoy Elton's unique brand of cultural commentary and pop-culture infused dialogue, you're in for some solid laughs brought to you by an able, talented cast. If you found the jokes in 'Blackadder' a bit much, maybe wait for the next Shakespeare production. 'Gasp!' is a clever, fun night at the theatre that isn't afraid of giving Western Australia a firm poke with a good sharp stick.
Sophie Joske
Gasp! by the Black Swan Theatre Company is at the Heath Ledger Theatre until November 9th. Tickets available here.