Get Bent! The Glory Republic returns for Fringe World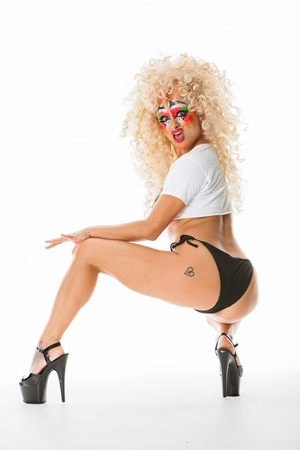 The Bent Femme Finishing School sure know how to turn out a party. Their inaugural 2016 event took over Babushka Leederville and put one of of the most glitter-stuffed celebrations of the year with performances from queer artists of myriad disciplines and identities.
This year, host Rainbow Gash returns to tempt you through your titillating evening with a little help from local loons Ash Baroque, Tess Ozteron, Scott-Patrick Mitchell, Miishy Ling and international sex clown sensation Betty Grumble. We picked the brain behind the bash, DJ Scissorfist, to find out how The Glory Republic will out-Fringe Fringe World.
What makes The Glory Republic different from a regular queer party?
The Glory Republic is a DIY performance party run by femmes and it exists purely to create a loving space for all the queer freaks, geeks, bears, stems, butches, twinks, ze's, hir's and whoevers to get together and have fun. We wanted an alternative venue in Perth to showcase underground talent and have a tit-swinger of a time!
We focus on alternative DJ's and performers that subvert the mainstream scene whilst also feeling inclusive to anyone who feels like they need a new kind of party. We're so excited to put on a Fringe show as the queers and femmes have been doing performance on (and up) the outskirts of society since The Virgin Mary came out as pansexual. This is our party and we'll twirl, twerk and twink if we wanna!
We hear you have some stories to tell about Miss Betty Grumble?
She sure knows how to put on a show with a spark… I first saw Betty as a hunky babe in a bikini posing in the desert covered in blood for a photo shoot. It was as if Jane Fonda and Xena raised a clown in a separatist lesbian commune and I just had to know more. She was one of the first sex-positive, queer-positive, female drag performers I ever saw – and I was hooked. I worked with her while I was DJ-ing in Sydney at a weekly night called Homosocial and Betty appeared one night as a naked dancing sex clown in the window, where she cavorted around to the amazement of passers by, and I got to play her soundtrack. I couldn't look away, Grumble is EVERYTHING!
There's something about the grotesque hotness of her that lights the fire in your own belly and makes you want to save the world whilst getting your gear off. (Oh yeah, she's also a vegan, MARRY ME BETTY?). Since then I've seen her get bigger and better with an incredible performance at Dark Mofo's legendary Blacklist after-party in Hobart, where she was dancing above the crowd in a converted garage and lighting sparklers up her butt! It was horrifically magnificent!
The first Glory Republic last year was one of the campest nights in town – what's different in round 2?
We're putting on a super-lush, magically adorned tropical love paradise for all the visiting and local queers that will be out and about for the Fringe festival, a space for us to come together and go wild. We want to do it our way, and we want everyone we've never met to come along. We've selected the tastiest local and interstate acts for your visual and listening pleasure.
There will be babes to feed you fruit and even bigger babes giving palm readings, dancing unicorns with very long horns, a giant neon vagina and MC Rainbow Gash who basically tickles everyone's fancies. Mostly we just want to stroke your sequins and dance with you – consensually – in a very gay way.
You have such a varied group of performers – what ingredients make your perfect party line-up?
Our aim is always to prioritise femme, non-binary and non-white performers as diversity is something that's really important to us and so is seeing diverse artists on the stage. We like planting the seed in the minds of up-and-coming performers, queens, impersonators, strippers, dancers and YOU that you can interact at our club night and be inspired to put yourself in the limelight. Get in touch with us for future events and SHOW US YOUR TEETH!
What shows are you excited to see at Fringe World 2017?
Oh there's too many so I'll list them really fast; Otto & Astrid – Eurosmash (by Die Roten Punkte), Adrienne Truscott – Asking For It (The one woman play where she "lets her pussy do the talking"), Lisa Skye's Spiders Wearing Party Hats Menagerie (the home grown Indie Pop DIY choir) and Cherrie-YO!-kie at the opening party and of course don't miss Betty Grumble in her solo show from January 28th – February 3rd!
Get down to The Glory Republic on Saturday February 4th at Babushka Leederville from 9pm. Tickets available from fringeworld.com.au