Grand Love Stories – Kacie and Jillian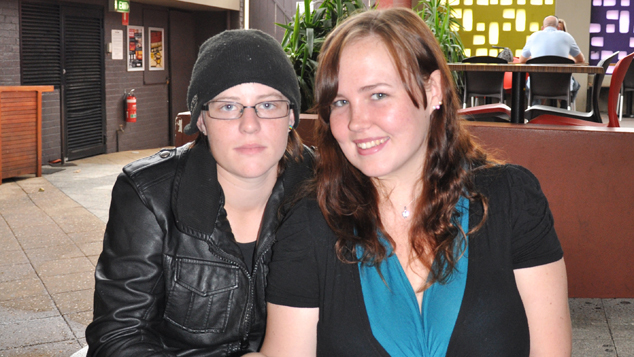 This month in OUTinPerth we decided to explore the theme of love and invited local couples to share with us what their journey to love and a relationship has involved. We met two very different couples who shared their stories.
Kacie Bentley and Jillian Kane's love story has already notched up many years, overcome hurdles and been tested by friends and family.
'We met when she was 12 and I was 14', Jillian reveals, 'We met through mutual friends in high school and we were friends for about four years, just in high school and hanging around, doing the teenage thing.
After several years as friends things changed one night for the two Darwin teenagers.

'We were at a friend's house one night playing spin the bottle', Jill explains, 'she'd dated guys and girls before and I hadn't really dated anyone. We were playing spin the bottle and all of a sudden just kept on going with it. Everyone else at the table was like, 'Stop – you don't need to continue the game', but we just continued on all night.'
After a few weeks Jillian plucked up the courage to send Kacie a text message asking if she'd like to be her girlfriend, Kacie turned her down.
Kacie admits that she had a crush on one of Jillian's best friends, but after a while the two began to secretly date. The pair would meet up daily but after a period of time Jillian's parents were concerned that she wasn't seeing any of her other friends. Five months into their relationship Jillian's mother found out about the true nature of their friendship from a family friend who Jillian describes as, 'a lovely lady who just couldn't tell a lie'
Kacie describes the day they were outed to Jillian's parents as the scariest day of her life. Jill's parents didn't take the news well. Jillian and Kacie say that this set off a period of extremely bad interactions with Jillian's parents.
'My parents, they're not religious or anything, they're just… I don't know… as they are… Mum was always cool with everything, I'd tell her everything, if I had questions about sex, boys, girls, relationships, anything – I'd just approach her with it.
'I knew she didn't like gay people, but I thought that she'd be better because her sister has a daughter who is a lesbian, and a gay son. I didn't think they'd react so badly, and after a few months I had to move out because it just got so bad.'
Soon the couple were in their own house, but even after more than a year of living together the couple say they still had regular negative interactions with Jillian's parents so they decided to move and make a fresh start in Western Australia where they have been living for the last two years.
The couple has a simple explanation on how their relationship survived criticism from family and friends, 'We just wanted to be together', Jillian plainly states, 'We got stronger because of it.'
'We really struggled at first with no money', Kacie recalls, 'lots of noodles and pasta…we really struggled for a few years.' The couple note that it's hard for an eighteen year old and a sixteen year old to find a place to live and at first share housing was the only option. But after a lot of searching the couple eventually rented a house, their lucky break was finding a rental property that was owned by an older lesbian couple.
Now four years into their relationship Kacie and Jillian feel their relationship with Jillian's parents is starting to improve. 'Now we've told them that we're thinking of having a family, they're over the moon', notes Kacie. Jillian smiles as she reveals that her mother now can't wait to be a grandmother.
For more grand love, see Ron and Michael 
Graeme Watson