Group Captain Cate McGregor wins Queenslander of the Year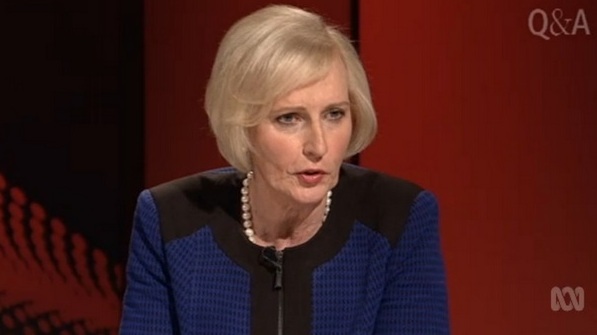 Queensland Premier Annastacia Palaszczuk has named sports commentator and military officer Cate McGregor Queenslander of the Year at an awards ceremony last week.
59-year-old Group Officer McGregor is the world's highest ranking transgender military officer, taking the award for her advocacy work and her leadership here in Australia.
McGregor, who transitioned in 2012, attributes her ascent within the ranks of the Australian Defence Force to her dire need to "fit in as a man". She told the crowd she would trade her career success to have realised her true gender identity sooner.
"My career is an accident in many ways," McGregor said, "What to outsiders looks successful was an attempt to fit in, an attempt to suppress my feelings, so I over achieved in sport and my job."
McGregor's advice to young LGBTI people was to look within, and try to live their authentic selves.
"Make sure you're taking all of you into your job… nothing external will make you happy until you get the internal part right."
Group Captain McGregor's win as Queenslander of the Year now places her in the running for the title of Australian of the Year, to be presented on January 26th next year.
For Australian of the Year McGregor will be competing against the man who used to be her boss in the army. Retired Lieutenant-General David Morrison has been named as the ACT's candidate for Australian of the Year.
Morrison received acclaim for encouraging diversity in the defense forces and taking a strong stand against those who thought women had no place in the service.
In 2013 Morrison made it clear to his troops that there was no place for outdated attitudes in the army when he published a YouTube video chastising those who bullied female personnel.
"On all operations, female soldiers and officers have proven themselves worthy of the best traditions of the Australian Army. They are vital to us, maintaining our capability now, and in to the future. If that does not suit you, then get out," Morrison said.
He told troops who were not up to the challenge of being inclusive, "to find something else to do with your life. There is no place for you amongst this band of brothers and sisters".
Morrison is credited with achieving a major cultural change within the army. Cate McGregor served as his speech writer during the time of significant change.
Australian of the Year will be announced on January 25th 2016 ahead of the Australia Day celebrations.
OIP Staff
10-11-15  This article was updated, previously we listed Dr Robert Isaac' as WA's nominee for Australian of the Year – Dr Issac's was Western Australian of the year for 2015.