Guess What! It's Cazwell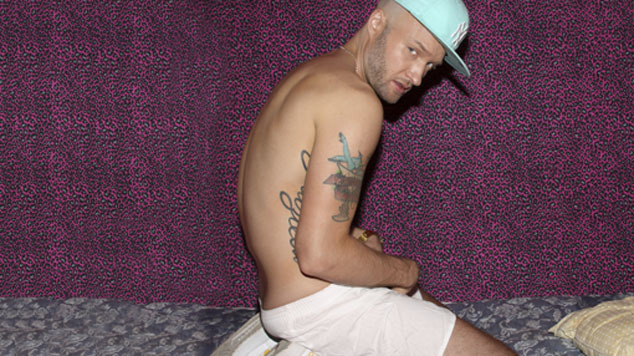 Cazwell's newest track 'Guess What' sees him teaming up with Luciana for one of the catchiest dance tunes in recent memory. It's the latest in a series of intriguing collaborations for the NYC based artist, last year he teamed up with Peaches, and he tells OUTinPerth there will be more collaboration to come in the future.
How did you come to be making this track with Luciana?
It's kind of funny, I was about to leave for a holiday and head off to Hawaii. I was at this bar in the East Village and Ian Sklarsky, who directed Luciana's videos for 'I'm Still Hot', the one with Betty White and the original video too, came up to me and he was like, "You know, I know Luciana, you should really do a song with her". And I said, "You know, I really love her voice, do you really think she'd do a song with me?" He said, "Yes, she is really laid back and I think she'd do it, let's do something when you get back".
So I headed off on my holiday to Hawaii and I met another guy who said, "You know what, I know Luciana and you should do a track with her". So I had two people six thousand miles apart telling me the same thing, so I thought – I guess I should!
We started with this instrumental track created by Fagault and Marina that my record label Peace Bisquit hooked me up with, they represent Fagault and Marina too. I thought this track, I could really hear her voice on it, and I love her voice, it's made for the dance floor. I sent it to her, and she sent me back the hook and it just sounded so good, so I probably spent more time on the rhymes than I normally would have just because I wanted them to match up to her vocals. I wanted my voice to be as good as her vocal was.
We didn't meet face to face until the day before we shot the video in LA; we did a show together the night before, that's when we met. Then we shot the video with J.B. Ghuman Jr. and the rest is history.
You'd never know that, looking at the video it comes across that you guys are out partying together regularly.
We both clicked, better than most people I work with. We're both Cancers and there were a lot of Cancers on set that day. We had a really great time. Luciana's very easy to love.  She's really fun, but not crazy fun, just a fun spirited person.
What was it like shooting the video?
It was pretty stress free, it's the first video that I didn't micro-manage everything. We shot in LA so it's not like I got the chance to do a hundred face to face meetings with the director and go over everything, come up with concepts and know in detail the schedule and shot list.
I've known J.B. for a while and I liked his treatment and knew it was nothing I was going to be able to really control, because it was all done with his people and it really came from his brain. It's the first time I was just like, "Just make me look good, that's all I care about".
I was really happy with everything and it was easy breezy. I didn't get stressed out by everything and it was definitely a lot of fun.
How's the new album coming along?
The new album is going well. I'm on deadline to finish the rest of the tracks this summer. It's taken a while because I keep writing new tracks and finding things to add to it, then deciding there are things I want to take away from it. I'm just really focussed at this point right now of dropping a single and video every six to eight weeks, which is what I plan to do for the rest of the year.
I have three videos in the bag already. I've got one with Manila Luzon who was on 'Ru Paul's Drag Race.' I did a track with her called 'Helen Keller' which is really awesome and that track and video is going to come out in August. Then I've got another video for a song called 'Sprung' which is going to come out in September or October. I'm working on another video right now; my whole life is consumed with getting videos made and finishing the album. Maybe it'll be out in the fall or a little later, but I promise I'll be dropping tracks regularly.
We've also seen you popping up in Jodie Harsh's videos for Laundry Service.
Yeah, I owed her a few favours. She is like a sister to me. We've known each other a long time and we're really supportive. Whenever she's in New York she stays at my house and when I go to London I stay with her. We have a great friendship… She's been to Australia twice this year, I hope I get to come to Australia!
What are the chances?
I guess it depends on how well the song does there. I love going to Australia, the boys there are so cute. Australian boys are so 'unsteroidy'. You can always tell in New York that the guys are on steroids, which I'm not necessarily complaining about, but all the hot guys in Australia they seem to just eat right and exercise. I was definitely impressed; I thought the guys were really good-looking there.
Cazwell and Luciana's 'Guess What' EP is available for download via iTunes.