Hannah Gadsby talks art, Please Like Me and the "Not-Fun"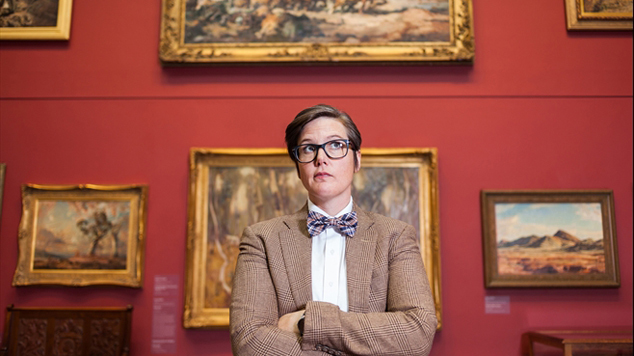 Comedian, writer, art historian and actor Hannah Gadsby is returning to WA for a stand up comedy special as part of the Art Gallery of Western Australia's Artbar series. Having just wrapped filming on the fourth season of Please Like Me, Gadsby caught up with OUTinPerth to yarn about the last season of the show and what to expect from her performance at AGWA.
Please Like Me is the first scripted comedy from the ABC to ever receive a fourth season – did you imagine this is where you would be when you started with the show?
I don't spend a lot of time imagining things… I'm just always stoked they ask me back each season. It's a really great show to work on, I mean they feed you and clothe you. Just rock up. It's wonderful.
We know you write for the show as well as play the character of Hannah, is there any overlap between your character and real Hannah?
Oh yeah. Josh loves it. Everytime I tell him a little tale of woe you can see his eyes light up like 'Great! Let's put your tragic life in there!' It's good, as much as there is crossover, it is a creative process so you can make it either more or less pathetic.
Do you write for other characters or just for Hannah?
I just work on the scenes that I'm involved in. Josh has a very clear idea of what he wants so I'll throw him a few bits that will get us out of the scene and through the process of writing and re-writing we get there. He's a smart boy. He wanted me based on my comedy, he knew that I have a very distinctive voice, so why muck about trying to write and rewrite it?
Hannah often finds herself surrounded by other people who struggle with mental health issues. Does this come from personal experience?
Well, I live with myself. That's living with someone with a mental illness. I think you'd be hard pressed to find anyone who isn't. I think if you push people hard enough, they'll let you know they're a bit sad. I've had my time in the "Not-Fun", let's call it.
Speaking of not fun, have you ever experiences a Christmas dinner quite like the Season 3 finale?
No. My family do not make gravy from scratch. What a great way to wrap up that season. I think a Christmas lunch is a great way to pile tensions because it's generally what happens. There's so much pressure on Christmas to be a fun time. In the lead up to Christmas you're always like 'Well, we've gotta wrap up the year!' Once the shops close after Christmas, it's over. You've wrecked your whole year then you bring that to Christmas lunch.
You're coming back to visit us for a show at Artbar. That's a fitting venue for you!
It's my dream! It's my spiritual home, a gallery! Not to talk seriously though. I like to talk seriously at a comedy show and make jokes in a gallery. I studied Art History at uni, but we're never gonna make it because as it turns out I'm a joker. The passion for visual history is definitely there. Art's always been a great way into working out how the world works, which is the same approach I take to comedy. Reconstructing something that happened into a story is a great way to find meaning.
Listen in on Leigh and Hannah's chat below.
Hannah Gadsby's Nanette will be at Heath Ledger Theatre from Friday Jan 27 – Sunday Jan 31st (ex. Sat 30th). Tickets and more information available from fringeworld.com.au
Leigh Hill