Hats off to 'Gutenberg – The Musical'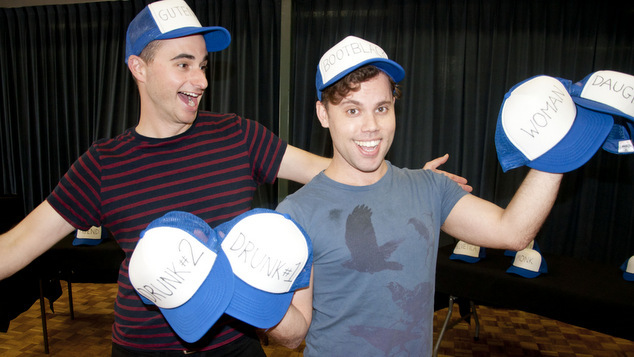 Gutenberg: The Musical has absolutely nothing to do with '80s Hollywood star Steve Guttenburg, he does however provide a quote supporting the show on their promotional posters.
Instead this successful off-Broadway musical is about two dudes, Doug and Bud, who are pitching a musical about Johannes Gutenberg, the man who brought mechanized printing to Europe in the 14th century.
To get their potential investor's attention, the duo perform the show – playing all of the characters themselves. Thirty characters, two men, one crazy dream.
To communicate all the different characters that will be in the show within a show, the duo wear a series of hats to differentiate all the different characters.
Local talents Andrew Baker and Tyler Jacob Jones will be wearing many hats in the production which is at The Hellenic Club from October 20th .
OUTinPerth dropped by the rehearsals and chatted to Andrew and Tyler.
Where did this show come from? What's it's history?
A: Gutenberg started in New York around 2005 when a comedy troupe called The Upright Citizen's Brigade, they're kind of like the Second City improv group – a couple of the writers Scott King and Anthony Brown, were in that troupe and they came up with the idea during improv.
They thought it was funny, so they expanded the idea and developed it into Gutenberg – The Musical. 
For Australians when you hear Gutenberg, you automatically think of actor Steve Guttenberg. 
T: There's a quote from him on the poster, Steve Guttenberg has an extra T.
A: There's a quote from him on the poster and there's also a YouTube video of him trying to see the show.
For a show that has absolutely nothing to do with Steve Guttenberg, what is the best Steve Guttenberg film?
A:  Police Academy 4: Citizens on Patrol is mine.
T: Three Men and a Baby!
Guys, we're a gay managazine – you should have gone with Can't Stop the Music!
T: You really now your target audience. I'm also a big fan of The Day After.
Is there a lot of improv in this show?
A; [laughing] we'll see! No, its a fully scripted show.
T: There's no roof for improv because there's so much going on technically with changing the hats, because the show itself is in the format of a backer's audition for this epic historical musical about Johan Gutenberg that these guys are putting on.
The play all of the characters, so because of all the technical switching of hats, it has the feeling of being made up – but it's actually very well prepared.
Are you prepared for when one of you puts on the wrong hat?
T: That's when the improv will happen, I had hats flying off my head in rehearsal the other day.  Once its on your head, you can;t see which hat you're wearing, it's a bit like Pin the Tail on the Donkey.
A: If we put the wrong hat on, we won't know. There's a great review of the Seattle production which says something like: "The breaks are disabled on this out of control clown car of non-stop theatre in-jokes". That's really what it feels like once it gets going.
What's the big musical challenge in this show? 
A: There's a whole lot of everything in it. There's tough singing in it, especially for Tyler.
T: I have to get the high notes.
A: There's that juggernaut thing, if you miss a cue – it's so hard to catch up. It has so many styles, there's rap tunes.
T: There's patter numbers, there's rock tunes, and pop ballads, there's gospel revival.
A: Its got everything in it musically.
Tickets to Gutenberg – The Musical are on sale now.
Graeme Watson