Homosexuality decriminalised in India, ending colonial era law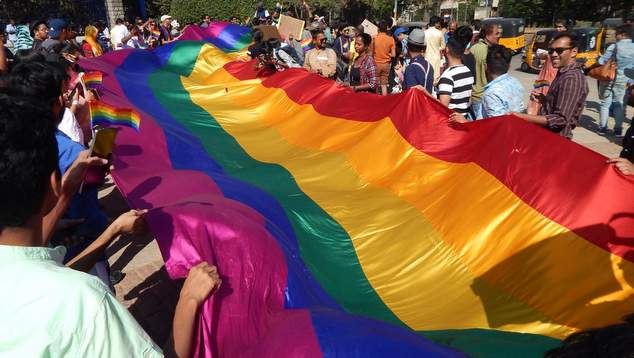 India's Supreme Court has overturned the law which made homosexual sex illegal. Today the court ended months of anticipation when it announced the law was unconstitutional.
Today on Thursday 5th September 2018, India's Supreme Court ruled to abolish the colonial-era, Section 377 of the Penal Code. The country has a population of 1.3 billion and and estimated LGBTI population of 78 million making this the biggest decriminalization verdict in history.
Judges ruling on the high profile LGBTI rights case said Section 377 violated the right to privacy.
The British era colonial law had been in place for 157 years, introduced in 1861 law criminalized 'carnal intercourse against the order of nature'. The law applied to anal and oral sex. People convicted under the law faced up to 10 years in jail.
While in recent years the government had stop charging people with offences, it remained on the books causing discrimination and stigma for LGBTIQ people.
"Criminalising carnal intercourse is irrational, arbitrary and manifestly unconstitutional," Chief Justice Dipak Misra said while reading out his judgement.
The decision saws campaigner who had gathered outside of the court burst into cheers of celebrations and many were reportedly brought to tears.
The Court's judgement potentially has far reaching consequences in India due it's basis on an indivduals right to privacy. In the 457 page judgement the court said;
"Sexual orientation is an essential attribute of privacy. Discrimination against an individual on the basis of sexual orientation is deeply offensive to the dignity and self-worth of the individual. Equality demands that the sexual orientation of each individual in society must be protected on an even platform."
Last year British Prime Minister Theresa May said the laws that criminalised homosexuality around the world were wrong, and many had been left as remnants of British colonialism.
Singapore is another nation that retains the British law, it also has the same number, section 377 on the law books.
OIP Staff
Image: LGBT activists hold a long rainbow colored flag demanding equality during Queer Swabhimana Yatra 2017 on February 19,2017 in Hyderabad,India
---