How To Do Drag Well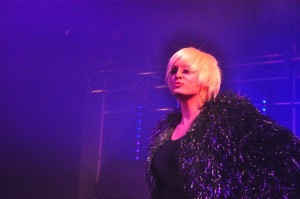 You know when you're stood in the bar, drink in hand, thinking 'I wonder how long it takes them to get ready? Where did they get that outfit? How did they learn to do that?' Maybe after seven Sambucca shots you've even asked them. Regardless, here's the answers to the questions you've always wanted to ask, or can't remember the answers for.
How long have you worked as a drag queen for?
Barbie: In August it will be fourteen years. Ruby: It's been almost three years. Anna: I've been doing it for a probably about a year now, professionally as such since the last production show I was in which is It's Okay to be Gay. Hannah: I've been working as a drag queen now for about two and a half three years. Swish:  Twentieth year in August.
Where did you learn to do your makeup?
Ruby: I started doing makeup even as a boy like a sicko [laughs] and then I started doing drag so I had a little bit more experience. I ended up doing a makeup course for artists at Mac makeup academy and then that's when I wanted to be a makeup artist but that also elevated my drag makeup as well. Barbie: A lot of drags start off by just doing trial and error and watching other people and then I had other drag queens help me. I ended up biting the bullet and doing a degree in makeup artistry, but I still learn every day. Hannah: I learnt my makeup through Ruby Jewelz, she helped me a lot as well as Barbie, she showed me a lot of different techniques. I love seeing how different queens do their makeup, it's just about a process of what is comfortable for you.
How long does it take you?
Barbie: Tonight took me about an hour and 20 minutes, more elaborate stuff can take two or three hours, some drag queens can get ready from start to finish in 45 minutes. It just depends on what you want to do. Anna: It depends on what I'm doing, and where I am, and who I'm with. If I'm with a bunch of friends it can take up to two hours or more. Tonight's look took probably about an hour and a half. Ruby: Roughly? It honestly depends on the face, wether I'm doing something girly or colourful drag or a 'look' but I would say between 1.5 to 2.5 hours
Where do you source your costumes from?
Anna: I get mine from everywhere. I love op shopping and finding really quirky stuff. Hannah: If I find something that I really like in a store I'll take that and I'll twist it and make it my own. Other than that I get lots of stuff made from different places. Barbie: I have a costume designer on the gold coast, I'll send him sketches or i'll send him a ball of fabric and just say 'make me something that's ridiculous'.
Do you design and make your own costumes?
Ruby: [Laughs] Oh no, I make little bits and pieces if I have to but if I want an elaborate outfit or if I want a particular look I get someone else to make it for me. Hannah: There's a few of them that I have designed. With costume designers I feel that it's their creative outlet so I like to give people my feelings on what I like then let them go with it. Barbie: I don't do any stitching but I do a lot of sketching and I take inspiration from lots of artists that I like.
Who do you take inspiration from?
Swish: From my mind, which is pretty fucking crazy. No one wants to be in there. Barbie: Dolly Parton – all that sparkle and all that terror. Love it. Anna: I just see what Hannah Conda's wearing and I copy that.
Do you stick to a particular theme when designing your costume?
Anna: I like to make sure my bum looks good [laughs]. I have my kind of own style, sexy but not slutty, I like to be kind of quirky as well. Swish: No, I do every single genre and every single style. Hannah: I don't like to stick to a particular theme. I like to branch myself across a few because it's important to be versatile. It's difficult to keep it fresh; I try my best to do different things every single time.
Where do you get your ideas for performances?
Ruby: I like to explore a lot of my dancing so I pick songs that are really upbeat and also happy, I like to express my sexuality, I'm quite active so I do enjoy doing the provocative songs and very suggestive dance moving. Swish: My mind, seriously my mind is a hot mess. Anna: Well I listen to the lyric of the song because coming from a singing and musical background. When I do a funny spot it really comes across, when I do a sexy spot it comes across. When I do a sad spot I mean, I've cried on stage.
How long does it take you to rehearse and put a show together?
Anna: That's the worse question to ask me because I'm so lazy. Literally, I'm all for improvisation, when I get on stage I know my words and I have a structure in my own head – but I never fully choreograph my own shows. I get on there and I feed from the crowd and I feed from the music and myself and what I'm feeling and I just get up there and do it. Swish: If I'm working with trained professional dancers I can put a show together in a day. If I'm working with someone who isn't as qualified, 2-3 days, depending on the size of the show. Hannah: To put a show together by myself, generally it's very on the spot. With other people it can be a couple of rehearsals and those rehearsals run for a couple of hours.
Do you think there is a shelf life on drag?
Anna: Absolutely not. I really love it; it's one of my passions.
Hannah: No, drag is one of those things that when you find out you're interested in doing it, you can start at any age.  Swish: I think there is if you treat it like a job, there has got to be a level of professionalism, but there also has to be a level of 'you know what, you're a man in a dress, taking the piss out of yourself'. There's got to be that level of comedy and self depreciation, drag is very self indulgent.
Do you shave or wax?
Barbie: I shave my face, and I hair clipper my legs, so you have it on zero like you would buzzcutt your hair then the tights cover it! Ruby: I shave my face, I shave my armpits, I shave my snail trail, and the rest is hair removal cream. Anna: I Veet absolutely, I'm all for the clippers lately, I clipper my legs than put on one pair of stockings and I'm a fucking GIRL!
Swish: I shave, I don't agree with waxing because I had a bad waxing experience I won't tell you more about that, you can see it on Xtube. Hannah: I shave; my back does need a wax though.
Nadine Walker, Images: Claire Alexander, Graeme Watson