Hello Dolly! Dolly Diamond heads to Perth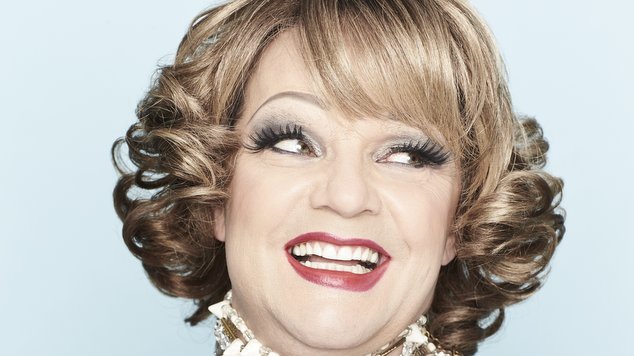 Dolly Diamond has been the Queen of Melbourne's Moomba Festival and graced the cover of long standing east coast queer magazine 'The Star Observer', she's a household name in gay abodes in Sydney and Melbourne.
This year she's heading to the West Coast and delivering her acclaimed cabaret show 'Alive and Intimate' as part of Fringe World. OUTinPerth sat down with the man behind the makeup, Michael Dalton.
Before he discovered his alter-ego Dalton performed in many well-known musicals and shows both in Australia and the UK. He's played many different roles in 'The Rocky Horror Show', performing the show in Australia, England and Europe.
Dalton's career first began when he was a youngster, he joined the local choir when he was seven and on the advice of his choir master he successfully auditioned to join the West End production of 'Oliver!'
"I was Oliver on Mondays and Tuesday" Dalton recalls, "I got six pounds for each performance, my Mum and Dad probably paid more to get me in and out of London for the performances."
Dalton said he wasn't an overly ambitious child performer, and his parents were not the clichéd stage parents. While he loved being Oliver on Mondays and Tuesdays, he wasn't plotting to take over any of the other days of the week. The experience did however kick off a career in the theatre.
Dalton explains that his character Dolly Diamond first came to life many years ago when he was working in the United Kingdom.
"I was living in London and agent mate of mine said she had a gig coming up in Wales – in Cardiff – and asked if I'd be interested. I'd toyed with the idea of doing a character, and doing drag, for a while and then I thought, 'Bugger it! Why not?'
"I went out and went shopping, I already had this black sequined suit, (very Liza), and I went out and got some shoes, which we probably only an inch off the ground (very sensible), and I did the gig and absolutely loved it." Dalton said.
The career changing moment 15 years ago sent the performers career on a whole new trajectory, but his upcoming Fringe World show will be his first appearance in Perth as Dolly Diamond.
"I love coming somewhere new," Dalton laughs, "you can bring out the dead and do all your old jokes, because nobody here's heard them before."
Dalton said he's excited to bring his show to Perth sharing his commitment to win over Perth audiences. The show 'Alive and Intimate', which has sold out in other cities, is one where the performer likes to get close to the audience and make a connection.
"I like intimidating people in the right way, winning them over." Dalton said, "I love the people who get into participating, the willing ones are brilliant, when they have something to contribute I'm like – 'bring it out!'.
Dalton said when he first began performing Dolly he took inspiration from a series of strong women.
"Those women that a lot of us gays look up to and laugh, I do love a bit of Liza, and I loved Judy Garland, but also my Mum was a strong women who I always admired. I think you try to encapsulate some of that confidence yourself. Women like Joan and Jackie Collins, those strong camp role models.
"I think gay men like a strong put together woman," Dalton said, "We probably like a strong put together man too!" the performer added breaking into a laugh. "I think we want to sleep with the man and be more like those women."
"I don't necessarily love putting on all the make-up, but I love becoming Dolly." Dalton declared.
Dolly Diamond 'Alive and Intimate' starts on February 9th, find out all the details at
www.fringeworld.com.au